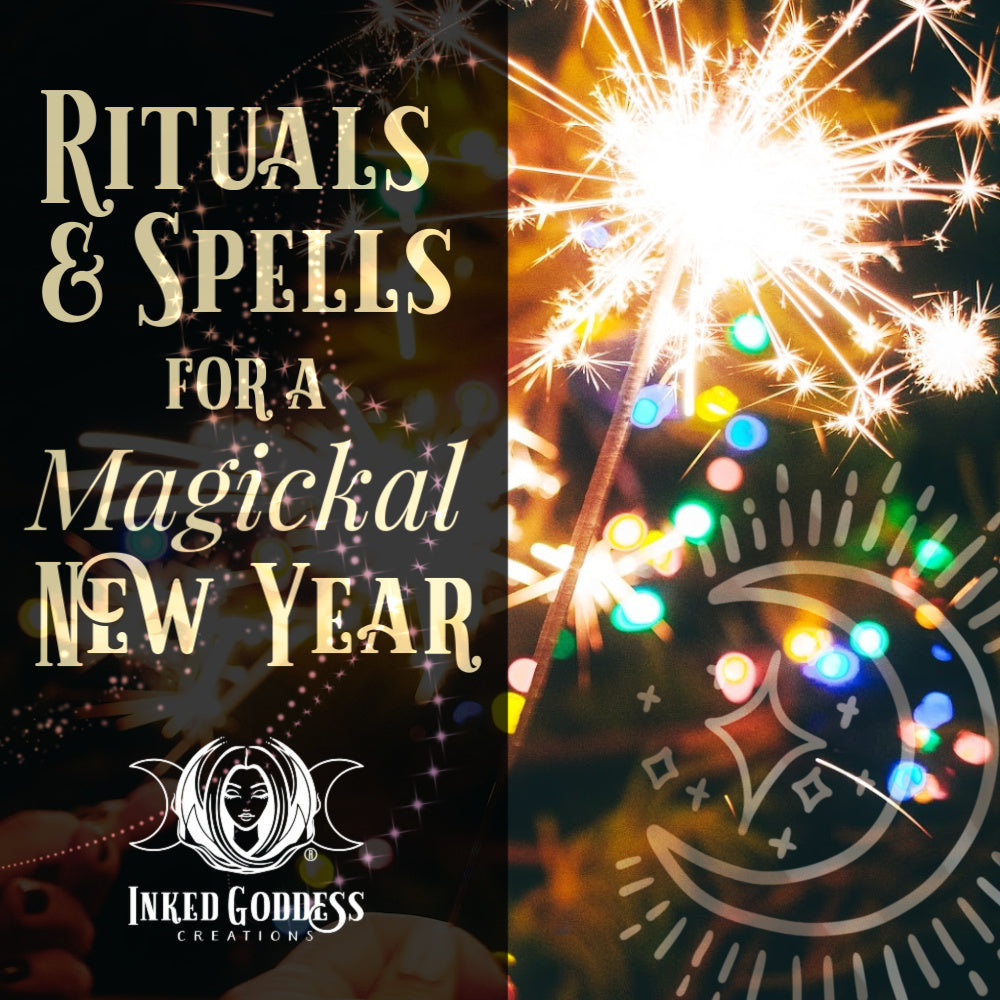 Rituals & Spells for a Magickal New Year
As we say goodbye to 2019 and head into a new decade, you may want to add a little magick into your celebrations. To help you do just that, we've found five new rituals and traditions to add to your practice. As always, we encourage you to take these suggestions, put your own spin on things, and bring your personal magick to the ritual.
Clear Out Your Home
In South Africa and Italy, there's a tradition of throwing anything you don't need out the window on New Year's. While literally tossing things out the window will just make a mess of your yard, the New Year is a great time to clear your home. Gather up clothes and shoes you no longer wear and take them to your local donation center. Haul off some old books to the recycled bookstore, or take some time to reorganize your pantry. When you've finished, clear the space energetically using herbs, a bell or singing bowl, or your favorite space clearing ritual.
Set Intentions For 12 Days
Use the first 12 days of the year to set intentions for each of the 12 months: for day one, set your intentions for January, day two for February, and so on. Blend in rituals or spells if you'd like, to add more magick to the practice. If you've had trouble keeping New Year's resolutions in the past, this might be a preferable alternative for you since it only requires 12 days of commitment.
Take A Ritual Bath
Gather your ingredients for your ritual bath. These usually include Epsom salt, specific herbs that align with your intention, essential oils, crystals, and candles. Lavender and rosemary are cleansing and grounding, but feel free to use ingredients that feel right to you. Leave your phone and books in the other room so you can concentrate on the bath, and incorporate your own words into the practice and truly make it your own. Focus on what you are leaving behind in the old year and what you want for the New Year. If you need more inspiration, we like this ritual from Mama Medicine.
Cast A Prosperity Spell
Looking for more financial abundance in the New Year? Try casting a prosperity spell. Green candles are perfect for prosperity, but if you don't have any, a white candle will do just fine. Cinnamon, lemongrass, and cloves are a few of our favorite herbs for prosperity. Add citrine, known as "the lucky merchant's stone," to your spell if you like to work with gemstones. Other stones that promote wealth and abundance include:
       

Malachite

       

Amazonite

       

Peridot

       

Pyrite

       

Green Jade
May prosperity be yours in the New Year!
Create A "Universe" Box
Select a new wooden or glass box for this ritual – or decorate one yourself. Write an intention or desire for the New Year on a piece of paper and place it in your Universe Box. You're giving this desire to the Universe to bring it to fruition. Seven days later, remove the piece of paper and burn it to show the Universe that you know it's been taken care of. This ritual can be repeated monthly or whenever you want to practice your manifestation magick. 
May you have a blessed and magickal New Year!