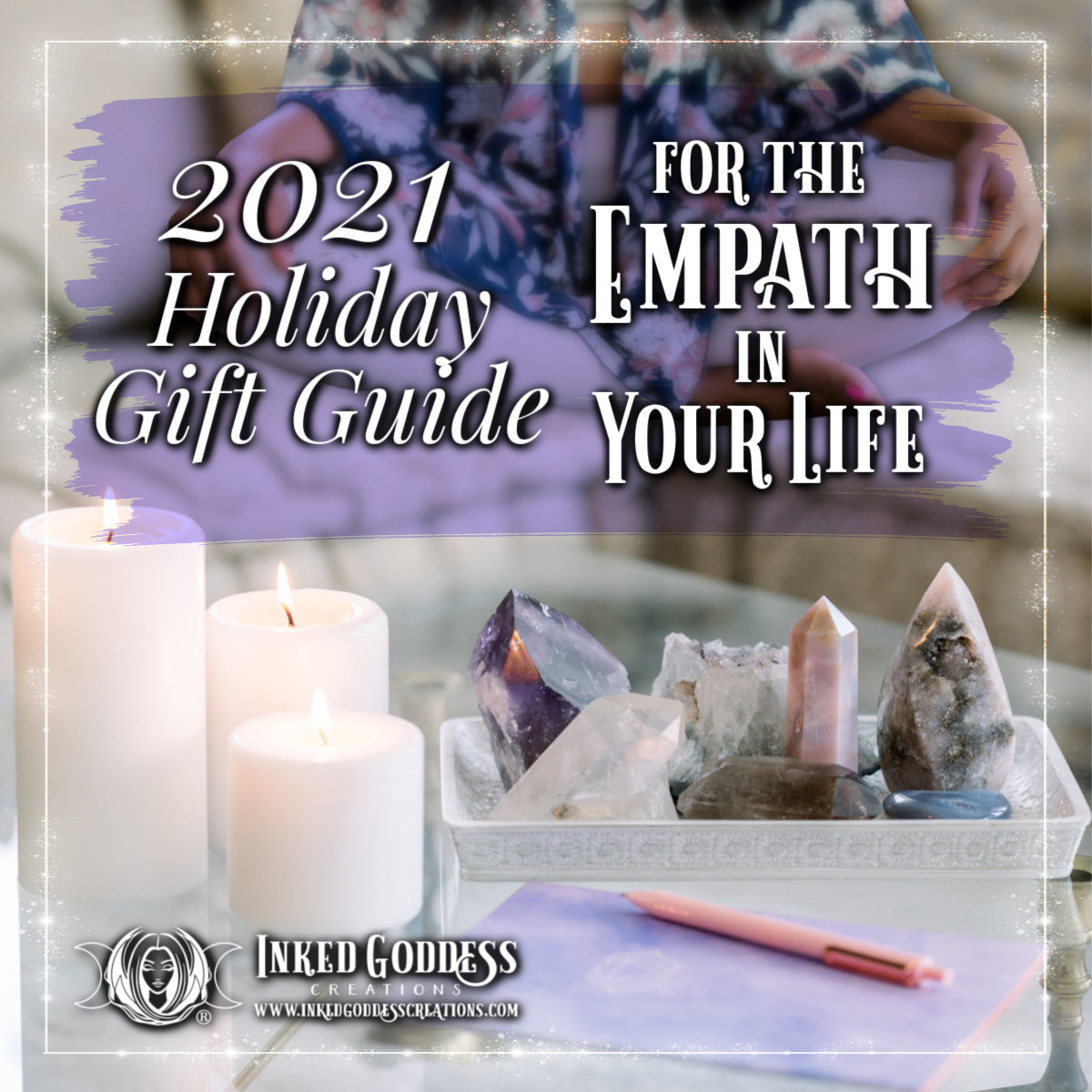 2021 Holiday Gift Guide for the Empath in Your Life
Empaths are truly special, and their needs are a little different from the rest of us. If you want to get the empath in your life something magickal to help them navigate the year ahead, we've got a great list for you! Here are some of our favorite gifts for empaths.
Empath Oil for Shielding from Others' Energies
Our exclusive spell oils are made in-house and charged on Morgan's altar for extra power. This oil is the perfect blend of oils and herbs to support people who can feel the energies of those around them. Oak Moss, Patchouli, Dragons Blood, and Frankincense oils in an Apricot Kernel Oil base, with Benzoin, Motherwort, and St. John's Wort herbs floating inside make this a delightful oil for wearing or cleansing magickal items. Seriously, it smells divine! Use it in rituals, as a perfume, or to protect a sacred space. It's sure to help your empathic loved one keep the good vibes going.
Black Tourmaline Point Necklace for Empath Protection
This necklace is a crowd favorite and one of my personal favorite pieces to wear regularly. Black Tourmaline is highly protective and blocks negative energy. It can also prevent a psychic attack, cleanse and purify negative energy from your aura, and lighten your vibrational energy if it becomes too dense. Each pendant is unique, and measures at least 1" long. It hangs from a 24" silver plated cobra chain. It seriously goes with everything! Plus, the necklace's low-profile design makes it perfect for the empathic witch who's still in the broom closet.
Empath Handmade Gemstone Wand
This wand is a must-have for a witch who needs to cleanse and protect after a stressful day. The handmade wand is made of Selenite, Black Tourmaline, Ruby Zoisite, and Clear Quartz. Selenite opens the pathway to connect to the highest realms, opening all chakras. Black Tourmaline deflects negativity. Ruby Zoisite allows the empath to connect with others without losing their energy or taking on others' emotions, and Clear Quartz activates and directs positive energies while dispelling negativity. Wands are used to direct energy outward from the body when held in your dominant hand to direct the energy, or draw energy inward from the Universe when held in your non-dominant hand to draw it inward. Your empath can use this when they get home from a stressful day at work to cleanse other people's energy from them, or to ground their energy when the kids have driven them crazy. Whatever your empath's daily life is like, this wand can help them recenter themselves! 
Protection and Cleansing Herb Set
If your favorite empath loves working with herbs, this set of six Protection and Cleansing Herbs will help them cleanse any area of harmful energies. They're also perfect for spells, charm bags, and other workings. The set includes Rosemary, Wood Betony, Angelica, Horehound, Mistletoe, and Juniper Berries, and each bag comes with a descriptive label to aid your empath in their use. While not appropriate for internal consumption, these herbs can be used individually or together for bath teas, lotions, soaps, and beyond.
Petrified Wood Heart for Ancient Grounding Energy
Petrified Wood is an incredibly grounding stone. Its beautiful tones of red, orange, and brown resonate with the lower chakras. Called the stone of the ancestors, Petrified Wood is created naturally by Mother Earth. The wood fossilized hundreds or thousands of years ago and holds the wisdom of the ancients. While anyone can use this gemstone to tap into the Akashic Records, it can also help empaths feel grounded and centered. Our heart-shaped Petrified Wood specimens symbolize love and positive energy – an added bonus!
A Warrior's Spirit Journal
Empaths can often feel depleted of their energy, so being able to tap into their inner strength can be a great reminder of all they're capable of. "A Warrior's Spirit Journal" was created by Morgan, owner of Inked Goddess Creations, and contains 70 workable pages to help you dive deeper into your spirituality. The goal is to help you overcome fears and shortcomings while holding fast to your kindness and compassion. Help the empath in your life discover their inner truths and connect with their authentic self with this one-of-a-kind journal.
Witch's Shield Himalayan Salt Spray
With the daily stress and drudge that many empaths accumulate, they definitely need a quick and easy way to cleanse and protect. Our Witch's Shield Himalayan Salt Spray was created specifically for empaths to help cleanse them of negative energy and create a protective energetic shield around them. Many witches carry this around with them for on-the-go cleansings (like before walking into that crowded grocery store during the holiday season- yuck!). 
Inked Goddess Creations Gift Card
Because Inked Goddess Creations' owner, Morgan, is an empath herself, she has created and curated so many helpful products for empaths, that maybe you want your favorite empath to choose their own gift based on energy. That's where an Inked Goddess Creations Gift Card comes in handy!