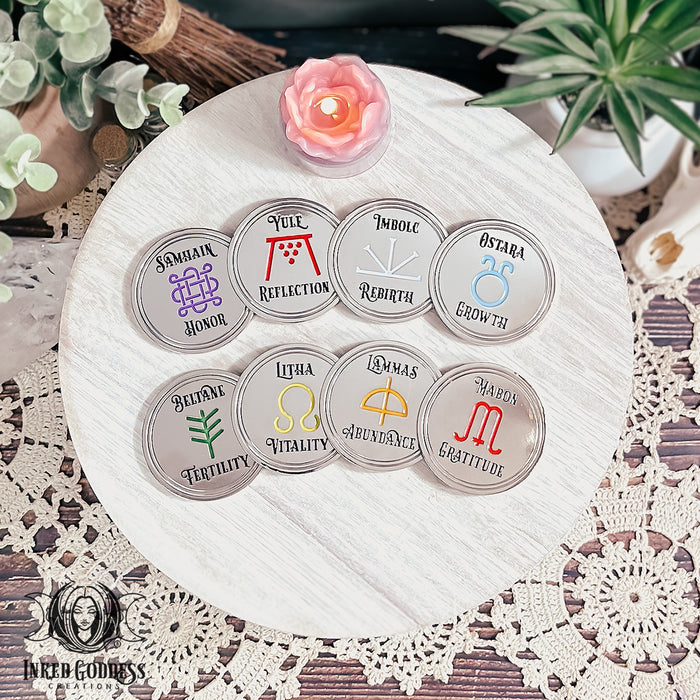 Sabbat Coin Set of 8 for Wheel of the Year Magick
Prepare your altar to celebrate the changing of the seasons with the Sabbat Coin Set, exclusive to Inked Goddess Creations.
The pagan calendar consists of 8 holidays or sabbats. These beautiful coins depict all 8 sabbats of the Wheel of the Year. Each sabbat coin contains colorful artwork on one side with an affirmation of the sabbat on the back, supporting the changing of the seasons.
Each Sabbat Coin Set contains the following:
Imbolc Rebirth Coin
Ostara Growth Coin
Beltane Fertility Coin
Litha Vitality Coin
Lammas Abundance Coin
Mabon Gratitude Coin
Samhain Honor Coin
Yule Reflection Coin
Please note: A sabbat coin is also included in each sabbat kit. If you purchased the kit, you do not need to purchase this set, unless you want 2 coins for that particular sabbat. Returns will not be issued because of a duplicate purchase.
Each altar coin is 1.75" in diameter, silver-toned with colorful artwork on the front. These are exclusive to Inked Goddess Creations!
Other items in the picture are for size reference only and are not included with the purchase.
Metaphysical properties of Inked Goddess Creations products are not guaranteed; I supply the tools, you supply the magick. Products should not be used in place of proper professional advice or treatment. If skin irritation occurs with body products, discontinue use immediately. Never leave a burning candle unattended. Internal use of herbs is not recommended, especially without having first consulted your doctor or a certified herbalist.