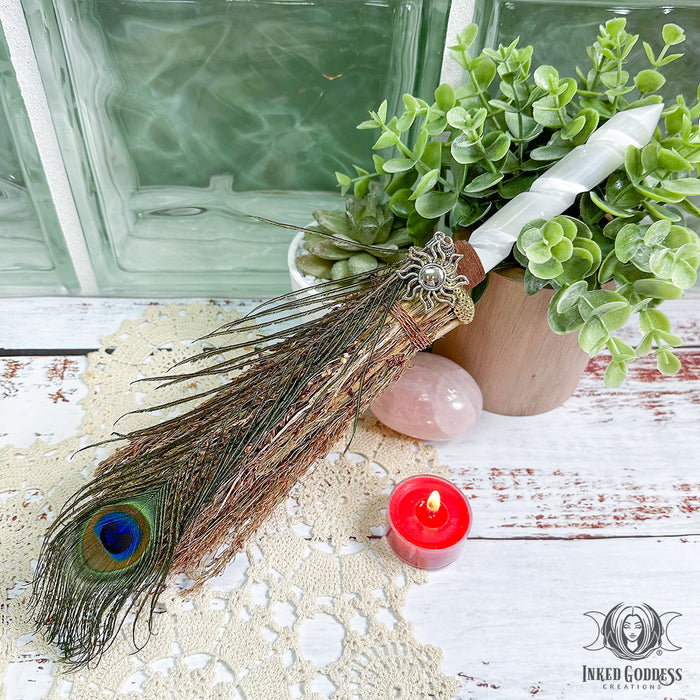 Selenite Altar Besom with Peacock Feather
Sweep away negative energy from your sacred space with a Selenite Altar Besom with Peacock Feather from Inked Goddess Creations.
Besom is the term used for a witch's broom, used to sweep away negative energy from your home or sacred space. This Selenite Altar Besom with Peacock Feather is a hand besom- the perfect size to stow away at your altar, for easy cleansing access.
The Peacock symbolizes beauty, pride, confidence, and protection.
The handle of this besom is spiraled Selenite. Selenite is a form of gypsum whose name means "Moon Glow". Shimmery and full of a moon-like luster, this mineral is highly revered in the metaphysical community. Selenite resonates with the Third Eye and Crown chakras, making this besom perfect for cleansing before meditation and setting the space for connecting with a higher spiritual source. When placed in a room, it promotes a peaceful atmosphere.
Selenite is one of the only gemstones available that is self-cleansing, meaning it cleanses itself as it cleanses your sacred space.
Because the handle is pointed, this besom can also be used as a Selenite wand to help you direct your energy!
Each order is for 1 Selenite Altar Besom with Peacock Feather, measuring approximately 12" long by 2" wide at the bottom of the besom.
Other items in the picture are for size reference only and are not included with the purchase.
Metaphysical properties of Inked Goddess Creations products are not guaranteed; I supply the tools, you supply the magick. Products should not be used in place of proper professional advice or treatment. If skin irritation occurs with body products, discontinue use immediately. Never leave a burning candle unattended. Internal use of herbs is not recommended, especially without having first consulted your doctor or a certified herbalist.
Awesome…More thanI excited
It is much prettier than I had expected
Treasured Magical Tool
The photos were wonderful but seeing and feeling the Selenite Altar Besom in person was amazing and I am so glad I did not miss out on this. It has become one of my top favorite magical tools and it will always be treasured. Thank you IGC for another awesome product. :)