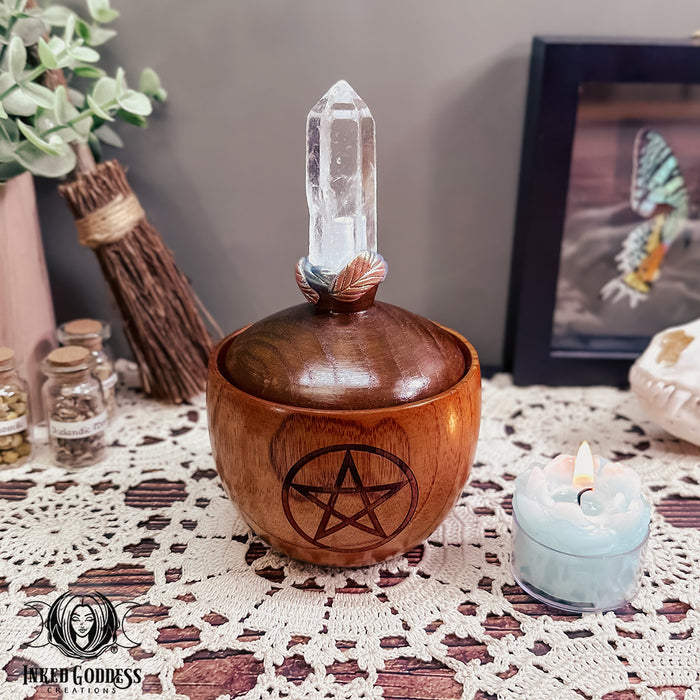 Wooden Pentacle Jar with Quartz Point Lid for Magickal Storage
Add some protective energy to your altar with our Wooden Pentacle Jar with Quartz Point Lid from Inked Goddess Creations.
Discover the perfect witchy addition to your altar – this Wooden Pentacle Jar with Quartz Point Lid! Not only is it cute, but it's an essential tool for magickal storage and decoration. Keep your herbs and trinkets safe and charged in this eye-catching pentacle jar. Get ready for your spells, charms, and divination with a little help from your favorite jar!
Clear Quartz is known as the "master healer" and will amplify energy and thought, as well as the effect of other crystals. Clear Quartz draws off negative energy of all kinds. As it resonates with the Crown Chakra, it helps balance and revitalize the physical, mental, emotional, and spiritual bodies, acting as a deep soul cleanser and connecting the mind, body, and soul. Clear Quartz also enhances psychic abilities while it aids concentration and unlocks memory.
The pentacle is a symbol that has long been used across cultures and civilizations as a symbol of good and protection against evil. In Wicca, the five points of the pentagram are associated with fire, water, earth, air, and spirit. 
This beautiful jar can be used to store herbs, spells, and store sacred altar items. There is a small indention in the lid where a mini spoon can rest. (spoon not included)
This Wooden Pentacle Jar with Quartz Point Lid is 5.5" x 3.5". Each order is for 1 wooden pentacle jar with quartz point lid.
Other items in the picture are for size reference only and are not included with the purchase.
Metaphysical properties of Inked Goddess Creations products are not guaranteed; I supply the tools, you supply the magick. Products should not be used in place of proper professional advice or treatment. If skin irritation occurs with body products, discontinue use immediately. Never leave a burning candle unattended. Internal use of herbs is not recommended, especially without having first consulted your doctor or a certified herbalist.
The Perfect Vessel
I adore this jar. It's absolutely perfect for mixing various herbs and resins for incense and the cut out on the lid means you can even rest a small spoon in the jar while keeping it all covered.