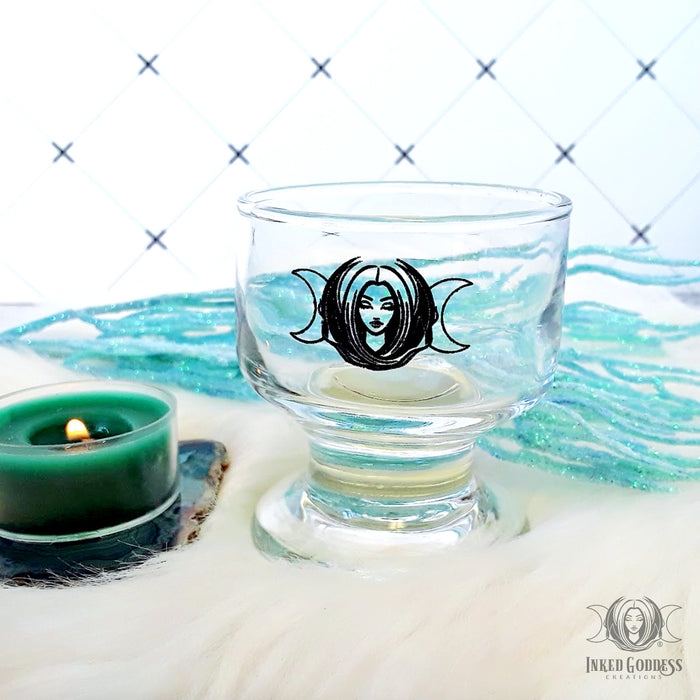 Add the element of water to your altar with this exclusive Mini Goddess Chalice from Inked Goddess Creations. This chalice is the perfect addition to any altar, ritual, or spellworking!
The Chalice is historically one of the four main tools in rituals to represent the elements. The Chalice represents the water element and the womb of the Goddess. It is a symbol of abundance and fertility and is used to offer libations to the deities, as well as to partake in any ritual celebration. Chalices can be made from many different materials including glass, gemstone, horn, metal, wood, and more! After using it in a ritual, take care to wash it by hand and keep it with your other ritual tools.
This chalice is mini-sized, perfect for smaller altars or to keep stronger libations handy as an offering to ancestors or to celebrate at the end of your ritual.
This item is an Inked Goddess Creations exclusive product!
Each order is for one Mini Goddess Chalice, measuring 2.75" x 2.25" and weighs just under 6 oz when packaged.
Other items in the picture are for size reference only and are not included with the purchase.
Metaphysical properties of Inked Goddess Creations products are not guaranteed; I supply the tools, you supply the magick. Products should not be used in place of proper professional advice or treatment. If skin irritation occurs with body products, discontinue use immediately. Never leave a burning candle unattended. Internal use of herbs is not recommended, especially without having first consulted your doctor or a certified herbalist.
Mini Chalice
I got this previously in my Element of Water subscription box and it's very cute, simple, and fits nicely on my altar. :)
Goddess chalice
So excited for my first chalice, and this one is adorable!