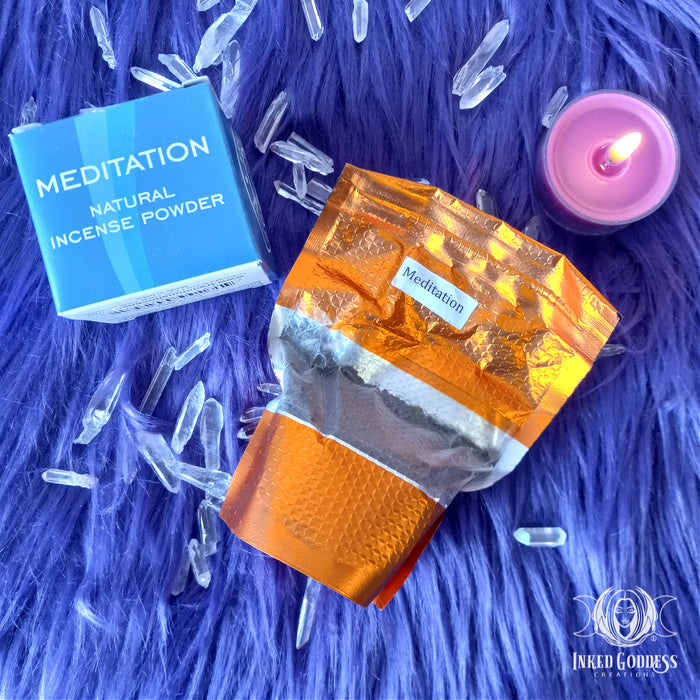 Meditation Powder Incense for Focus
Scent your home or sacred space in a unique way with the Meditation Powder Incense from Inked Goddess Creations.
The Meditation Powder Incense is the perfect blend to help one calm a busy mind to focus and aid one in the practice of meditation. This incense powder is a fine blend of fragrant oils, herbs, and aromatic wood powders. To use, simply pinch a small quantity of powder into a shape of a mound, light the tip and blow out the flame. The incense will then slowly smolder and release its fragrance at the same time. This incense can also be used with a charcoal tablet for a stronger burst of fragrance.
The Meditation Powder Incense comes within a sealed pouch inside of a 2x2" box. This incense was featured in our January 2022 "Element of Spirit" Inked Goddess Creations Box.
Other items in the picture are for size reference only and are not included with the purchase.
Metaphysical properties of Inked Goddess Creations products are not guaranteed; I supply the tools, you supply the magick. Products should not be used in place of proper professional advice or treatment. If skin irritation occurs with body products, discontinue use immediately. Never leave a burning candle unattended. Internal use of herbs is not recommended, especially without having first consulted your doctor or a certified herbalist.
Meditation powder incense
I also got this in one of the previous IGC subscription boxes. The scent is light, subtle, and sweet. Magnificent for everyday usage to help you feel more tranquil and / or aid in your spiritual connection. Thanks, IGC! :)
Smells Amazing!!
I absolutely love this product!! You can not beat the price either. I got this in one of the monthly boxes and instantly fell in love with the scent. Its very calming and helped me destress after a long and hard work day!