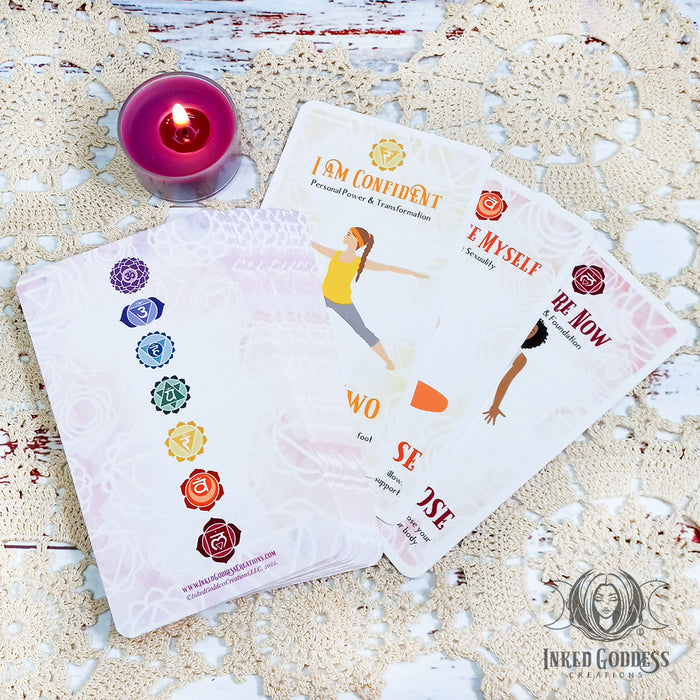 Chakra Yoga Affirmation Deck
Add some chakra-aligning affirmations to your daily magickal practice with our Chakra Yoga Affirmation Deck, exclusive to Inked Goddess Creations.
The Chakras are a system of energy centers found in the body, originating centuries ago in India. Each Chakra has an energetic flow and focus.
This Chakra Yoga Affirmation Deck contains 21 cards, broken down into 3 yoga poses with affirmations for each Chakra. Many of the poses also contain modifications written on them for beginners. Each Chakra has an easy pose, intermediate pose, and advanced pose. This deck comes in an Inked Goddess Creations velvet bag. 
This deck can be used in many ways, including:
Intuitive Pull- Use the deck as an affirmation deck and pull a card each morning for your daily affirmation
Single Chakra Sequence- Work on opening and aligning a single chakra by pulling the 3 cards for that chakra and doing the yoga poses and/or saying the affirmations.
Build a Sequence- Align your chakras by pulling one card from each chakra to create a yoga sequence. Start with the Root Chakra and move up to the Crown Chakra.
The concept for these cards was dreamed up by Morgan, owner of Inked Goddess Creations. She wanted a deck that not only added positive energy to one's daily routine through affirmations but also incorporated the ancient magick of yoga. When she couldn't find one that fit the bill, she decided to have one designed in-house!
This deck is professionally printed in full color, with a soft-touch coating on them for a truly unique, elegant, witchy informational deck.
Each order is for 1 Chakra Yoga Affirmation Deck which comes in a velvet logo bag. Deck measures approximately 2.75" wide by 4.75"" tall, and is exclusive to Inked Goddess Creations. The deck includes 1 information card and 21 Chakra Yoga Affirmation Cards.
Other items in the picture are for size reference only and are not included with the purchase.
Metaphysical properties of Inked Goddess Creations products are not guaranteed; I supply the tools, you supply the magick. Products should not be used in place of proper professional advice or treatment. If skin irritation occurs with body products, discontinue use immediately. Never leave a burning candle unattended. Internal use of herbs is not recommended, especially without having first consulted your doctor or a certified herbalist.