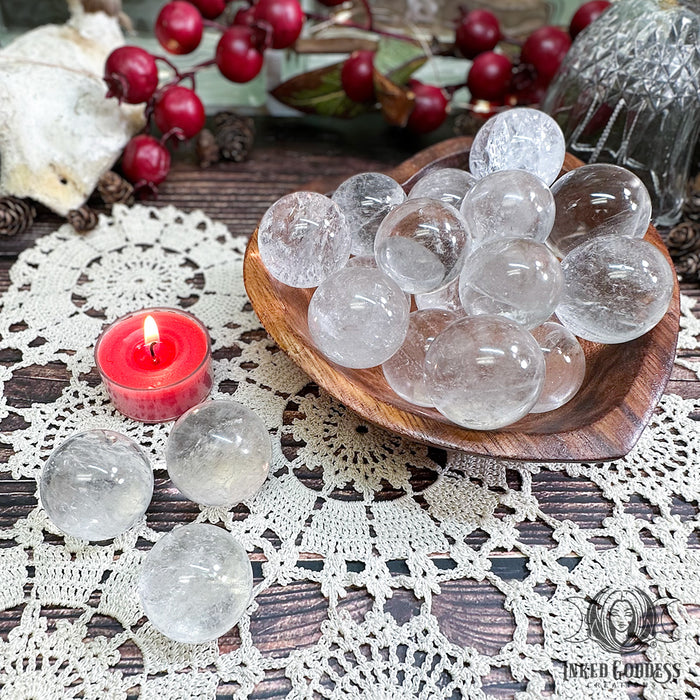 Clear Quartz Mini Crystal Ball for Enhanced Scrying
Amplify your psychic powers for your divination practice with a Clear Quartz Mini Crystal Ball from Inked Goddess Creations.
Clear Quartz is known as the "master healer" and will amplify energy and thought, as well as the effect of other crystals. Clear Quartz draws off negative energy of all kinds. As it resonates with the Crown Chakra, it helps balance and revitalize the physical, mental, emotional, and spiritual bodies, acting as a deep soul cleanser and connecting the mind, body, and soul. Clear Quartz also enhances psychic abilities while aiding concentration and unlocking memory.
Crystal balls are a common divination tool used for scrying. To use a crystal ball you gaze upon its surface, opening yourself to divine messages that your guides wish to bring you. It is said that these messages will appear in the form of words or pictures within the patterns of the crystal ball.
Please note the size of these before ordering- they are small!
Each order is for 1 Clear Quartz Mini Crystal Ball, which measures approximately 1" in diameter and weighs 2 oz. 
Other items in the picture are for size reference only and are not included with the purchase.
Metaphysical properties of Inked Goddess Creations products are not guaranteed; I supply the tools, you supply the magick. Products should not be used in place of proper professional advice or treatment. If skin irritation occurs with body products, discontinue use immediately. Never leave a burning candle unattended. Internal use of herbs is not recommended, especially without having first consulted your doctor or a certified herbalist.