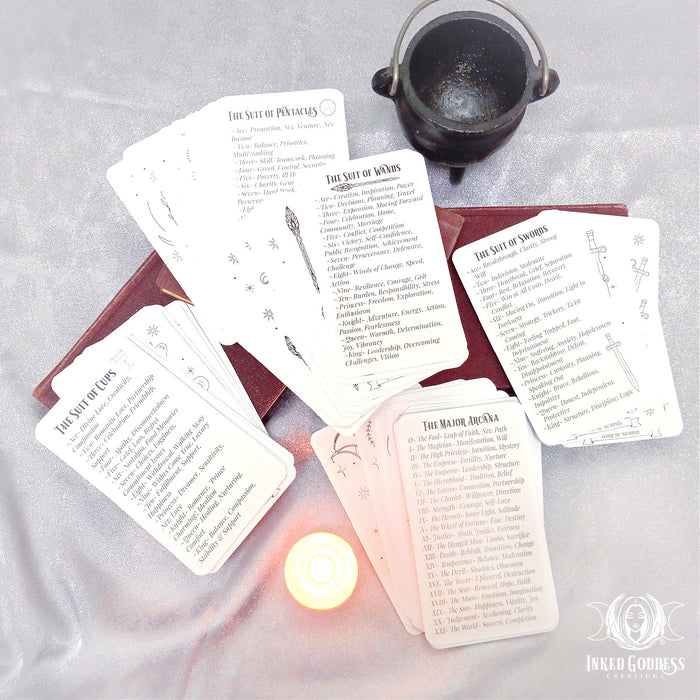 Color Your Own Tarot - Full Deck
Customize your own tarot deck with this exclusively designed Color Your Own Tarot - Full Deck from Inked Goddess Creations.
The simplistic designs on these tarot cards are open for you to color them if you wish, or leave them as-is for a modern deck. These were designed by Morgan, the owner of Inked Goddess Creations!
The Full Deck includes each Color Your Own Tarot suit, such as:
The Major Arcana of the tarot is comprised of 22 numbered cards from 0-21. These cards represent major life lessons and big-picture ideas. Their messages are impactful, emotional, and complex.
The Suit of Cups in tarot represents relationships, feelings, intuition, and psychic abilities. The cards deal with love affairs, one's emotional reactions or responses to events, and the pursuit of happiness. As the Suit of Cups represents the element of water, it is important to remember that water can be a gentle or turbulent force, and the different cards in the Suit of Cups do correspond to these ups and downs.
The Suit of Pentacles in tarot represents the workings of the consciousness and reflects health, finances, work, and creativity. Pentacles help guide the experience with our outside surroundings and what we can do to transform them. Pentacles are associated with the self, dealing with the ego, and psychic ability.
The Suit of Swords in tarot deals with the mind and intellect. Cards in the suit of swords indicate change, action, and oftentimes, conflict. The suit of swords resonates with the element of Air, which is associated with constant movement, wisdom, grand thoughts or ideas, and power. Sword cards have very forceful energy, meaning action needs to be taken now! But as swords deal with intellect, make sure your actions are deliberate and you have a strategy in place before taking action.
The Suit of Wands in tarot deals with the energies of creativity, action, and movement. Cards in the suit of wands indicate growth, ambition, leadership, and competition. The suit of wands resonates with the element of Fire, which is associated with passion, unpredictable energetic bursts, and sexuality. Wands in tarot can represent thin. If nothing else, when wands appear in a reading, change and movement are on the horizon.
Each order is for (1) Full Deck of Color Your Own Tarot cards. These cards measure 4.75" x 2.75".
Other items in the picture are for size reference only and are not included with the purchase.
Metaphysical properties of Inked Goddess Creations products are not guaranteed; I supply the tools, you supply the magick. Products should not be used in place of proper professional advice or treatment. If skin irritation occurs with body products, discontinue use immediately. Never leave a burning candle unattended. Internal use of herbs is not recommended, especially without having first consulted your doctor or a certified herbalist.
Color Your Own Tarot deck
I previously acquired the Suit of Cups deck from the Element of Water box and the Major Arcana deck from the Element of Spirit box, but I missed out on the remaining Suits of Swords, Wands, and Pentacles. :\ Glad I bought the full Tarot deck at a good price. Thanks! :)
I love this deck!
Not only do I love tarot cards, I really enjoy relaxing and coloring. And this deck lets me do just that. This may be my new favorite deck.