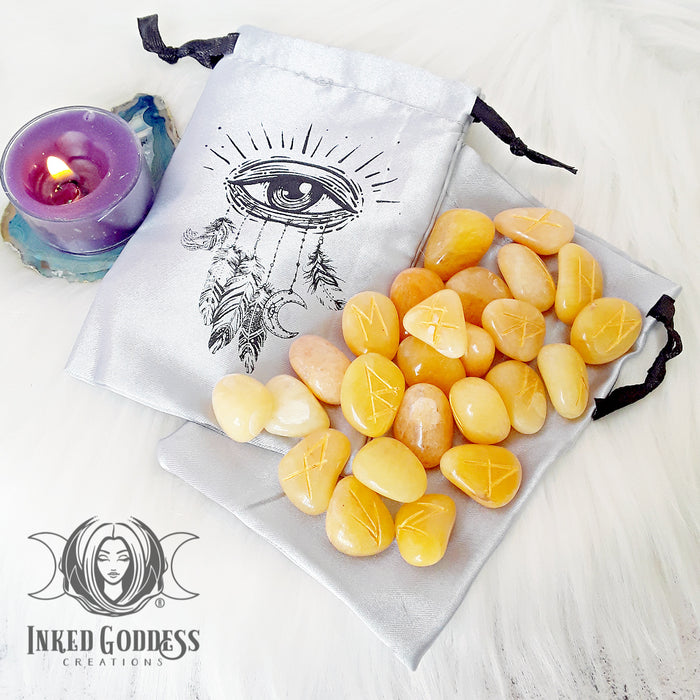 Yellow Aventurine Gemstone Rune Set with Witch's Sight Bag
Explore an amazing form of divination with these beautiful Gemstone Rune Sets from Inked Goddess Creations.
Runes are the letters in a set of related alphabets known as runic alphabets, which were used to write various Germanic languages thousands of years ago. They are Norse in origin, and contain 25 stones in a set (24 letters and a blank stone). It is believed that the runic symbols were handed down by Odin- chief Norse god- himself, and the word 'rune' means 'whisper,' or 'secret wisdom.' They are used today as popular tools of divination, as each letter has divinatory meaning.
Each Gemstone Rune Set from Inked Goddess Creations contains 1 set of gemstone runes and a Witch's Sight carrying bag. Each gemstone rune set has the runes engraved into them, and then gold paint accentuates each symbol.
Yellow Aventurine closely resonates with Solar Plexus Chakra, and is a powerful calming stone. It encourages self-reflection and balance.
Please select your gemstone from the drop-down list. As we have several in stock, and each one is different, one will intuitively be chosen for you at the time of purchase. Please allow for natural differences in color, shape, and striations, and understand you may not get one of the ones pictured above.
Other items in the picture are for size reference only and are not included with the purchase.
Metaphysical properties of Inked Goddess Creations products are not guaranteed; I supply the tools, you supply the magick. Products should not be used in place of proper professional advice or treatment. If skin irritation occurs with body products, discontinue use immediately. Never leave a burning candle unattended. Internal use of herbs is not recommended, especially without having first consulted your doctor or a certified herbalist.
amazing and powerful
Oh how I love these Runes. The are beautiful and so powerful! I've been using them everyday!
Runes
These runes are beautiful! We look forward to using them soon. More quality items from Inked Goddess Creations will be in our future!
Rune Set
I absolutely love the Moss Agate runes set. The engraving is nicely done so no worry of rubbing off. I look forward to developing my connect with the Heart Charka and learning more of each rune divination.
Beautiful
My first time with runes. I'm still learning but they are beautiful and feel wonderful!
First Rune Set
This is my first rune set and they're so beautiful. I purchased the amethyst version. You'll be so glad you purchased these!