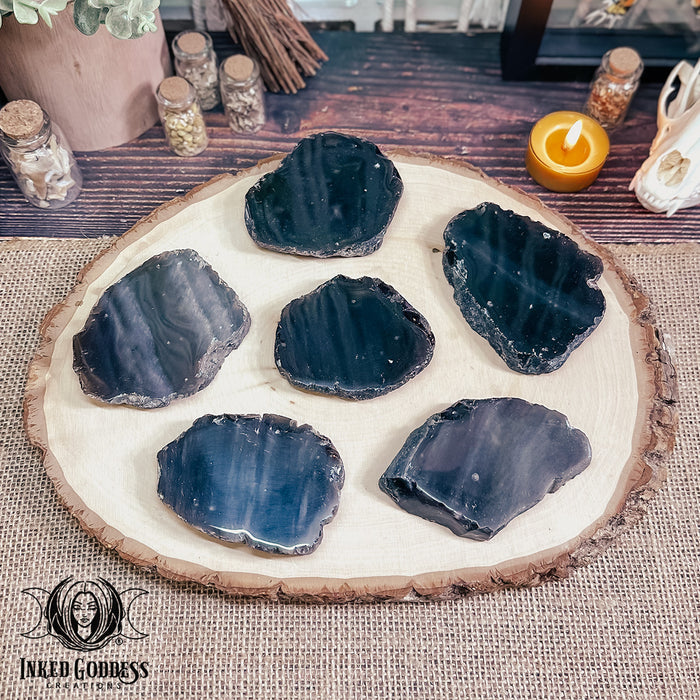 Tektite Carved Scrying Plate for Aligned Divination
Open yourself to the power of transformation with the help of Tektite Carved Scrying Plate from Inked Goddess Creations.
Make your spiritual journey out of this world with these extraterrestrial Tektite Carved Scrying Plates.
Tektite is formed when a meteorite enters and hits Earth. Since its source is extraterrestrial, it has the ability to communicate with beings from outside of our world. Tektite can accelerate spiritual and emotional growth. When using tektite, one may experience an increase in epiphanies as it helps to bring alignment to spiritual paths. Tektite clears away blockages and activates all chakras, especially the Crown Chakra. Keeping a piece of tektite near you will help ward off negative influences, keeping your energy uplifted and lively.
These plates can be used as offering plates, altar tiles, or as scrying mirrors. Their striations make for easy focus into the murky inwardness of the gemstone.
Each listing here is for one Tektite Carved Scrying Plate measuring approximately 2.5" in diameter with a thickness of .5".
Other items in the picture are for size reference only and are not included with the purchase.
Metaphysical properties of Inked Goddess Creations products are not guaranteed; I supply the tools, you supply the magick. Products should not be used in place of proper professional advice or treatment. If skin irritation occurs with body products, discontinue use immediately. Never leave a burning candle unattended. Internal use of herbs is not recommended, especially without having first consulted your doctor or a certified herbalist.