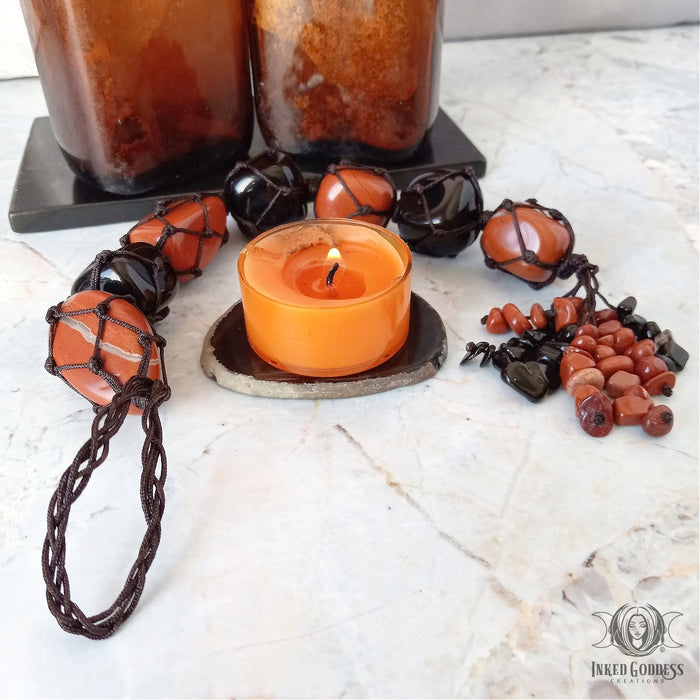 Grounding and Protection Gemstone Meditation Strand
Stabilize your energy with the help of a Grounding and Protection Meditation Strand, exclusive to Inked Goddess Creations.
Meditation Strands are similar to Mala beads and are used to help deepen a meditation practice by encouraging a centered and balanced focus. You place the loop on the end around your index finger and dangle the strand down your arm, holding the gemstones as you meditate. You can also use meditation strands to practice gratitude magick as you hold each tumbled stone, using each stone to represent a blessing that you are grateful for.
The Grounding & Protection Meditation Strand contains alternating Obsidian and Red Jasper tumbled gemstones, with the same gemstones in chips that dangle from the end. It resonates with the Root chakra to help stabilize your energy, destress, and protect you from negativity.
Red Jasper calms the emotions almost instantly. It is an extremely protective stone which brings problems to light and provides insights into difficult situations. Red Jasper is also successful in aiding in dream recall, and cleans and stabilizes the aura.
Black Obsidian is a very powerful and creative stone. It increases self-control and releases imbalances and negative energies. Black obsidian is protective and provides support during change. It repels negativity and disperses unloving thoughts. Obsidian resonates with the Root Chakra, making it an extremely grounding stone.
These meditation strands were designed by Morgan, owner of Inked Goddess Creations, and then handmade exclusively for Inked Goddess Creations. Morgan chose the intentions for each meditation strand and the gemstones for each strand, based on the strand's purpose.
Each purchase is for 1 Grounding & Protection Meditation Strand, measuring 11-12" in length. Please allow for natural variances in coloring and shape, as you will not get the exact one pictured above.
*Third picture is simply to demonstrate HOW to use a meditation strand.
Other items in the picture are for size reference only and are not included with the purchase.
Metaphysical properties of Inked Goddess Creations products are not guaranteed; I supply the tools, you supply the magick. Products should not be used in place of proper professional advice or treatment. If skin irritation occurs with body products, discontinue use immediately. Never leave a burning candle unattended. Internal use of herbs is not recommended, especially without having first consulted your doctor or a certified herbalist.
Big!
Woow idk what I was expecting but this is such a well made, big and strong meditation strand! It feels amazing in my hands. Amazing tool to have.