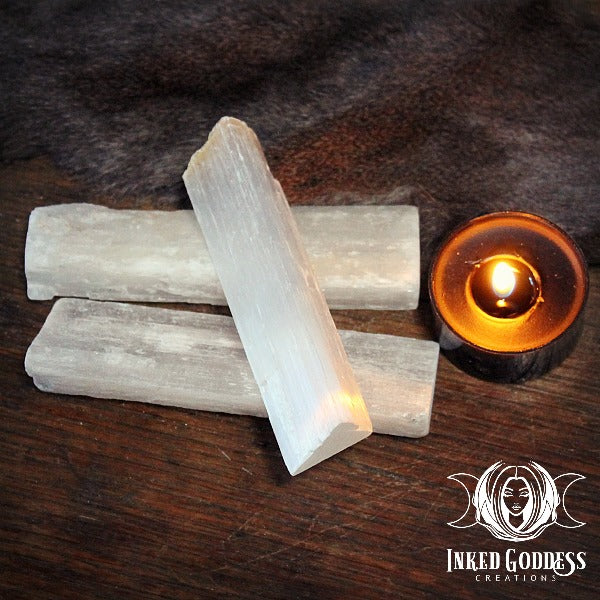 Raw Selenite Mini Wand for Meditation, Spirituality, and Aura Cleansing
These Mini Selenite Wands from Inked Goddess Creations are in their truest, raw form, and are small enough to keep in the palm of your hand while meditating.
Selenite is a form of gypsum whose name means "Moon Glow". Shimmery and full of a moon-like luster, this mineral is highly revered in the metaphysical community.
Selenite resonates with the Third Eye and Crown chakras, making these wands perfect to hold during meditation and to help connect with a higher spiritual source. It is said that Selenite is perfect for cleansing negative energy from the aura, and can be used during healing rituals.
These long and skinny wands are perfect for setting up a selenite protection grid in your home, for charging smaller gemstones, and more!
These raw mini Selenite wands measure approximately 3"-4" long and approximately 1" wide. I have several in stock, so please note that you may not get an exact wand pictured here, but will get a wand of similar size when you order.
Other items in the picture are for size reference only and are not included with the purchase.
Metaphysical properties of Inked Goddess Creations products are not guaranteed; I supply the tools, you supply the magick. Products should not be used in place of proper professional advice or treatment. If skin irritation occurs with body products, discontinue use immediately. Never leave a burning candle unattended. Internal use of herbs is not recommended, especially without having first consulted your doctor or a certified herbalist.
Selenite wand
I love selenite and ordered two of these wands. I wouldn't call them 'mini' as they are actually bigger than they look in the picture, and for a great price too! :)
Selenite
This is a very nice size of selenite, it's exactly what I was expecting and wanting.
Nice and as described
As described. Happy with my purchase
Perfect size for what I need it for and it was a great price! I love how it looks in the sunlight and want to buy more for my friends, would make a perfect gift!
I'm addicted to selenite! I received a MUCH larger piece than I had imagined...definitely worth the price and I'm buying another one!
Just what I was looking for!
I absolutely love this little wand and I can't believe how affordable it was! I wanted a mini selenite wand for aura cleansing and to rest some of my smaller crystals on to cleanse and this was perfect. This was my first time ordering from Inked Goddess Creations and I was impressed by the whole process. I love this little wand and am thinking of buying a few for gifts.