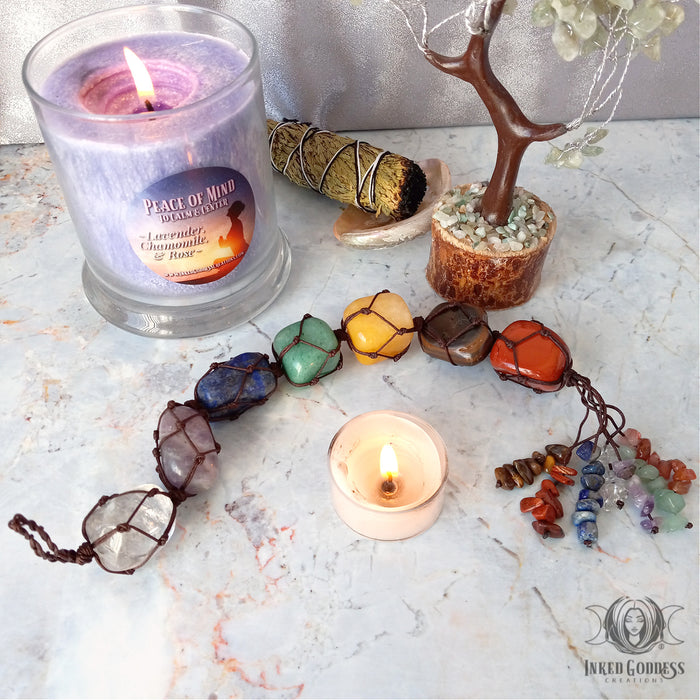 Chakra Gemstone Meditation Strand to Cleanse and Align
Tap into your intuition and discover inner wisdom with the help of a Chakra Gemstone Meditation Strand from Inked Goddess Creations.
Meditation Strands are similar to Mala beads and are used to help deepen a meditation practice by encouraging a centered and balanced focus. You place the loop on the end around your index finger and dangle the strand down your arm, holding the gemstones as you meditate or even count your blessings when practicing aligning yourself with the seven Chakras.
This Chakra Meditation Strand can help cleanse and align your chakras, be used during Reiki healing sessions, or facilitate a cleansed, balanced energy in your sacred space.
Chakras:
Crown~ Clear Quartz~ Opening to your divine energy source
Third Eye~ Amethyst~ Increase psychic abilities & intuition
Throat~ Lapis Lazuli~ Clear communication and truth
Heart~ Aventurine~ Love and compassion
Solar Plexus~ Agate~ Personal power and self-confidence
Sacral~ Tiger's Eye~ Sexuality and creativity
Root~ Red Jasper~ Stability and groundedness
Each purchase is for 1 Chakra Gemstone Meditation Strand measuring 11-12" in length. Please allow for natural variances in gemstone coloring and shape, as you will not get the exact one pictured above. *Third picture is to simply show how to use a meditation strand.
Other items in the picture are for size reference only and are not included with the purchase.
Metaphysical properties of Inked Goddess Creations products are not guaranteed; I supply the tools, you supply the magick. Products should not be used in place of proper professional advice or treatment. If skin irritation occurs with body products, discontinue use immediately. Never leave a burning candle unattended. Internal use of herbs is not recommended, especially without having first consulted your doctor or a certified herbalist.
Heavy and beautiful
This is a great meditation strand its beautifully wrapped. Very good quality and a great addition to my craft.