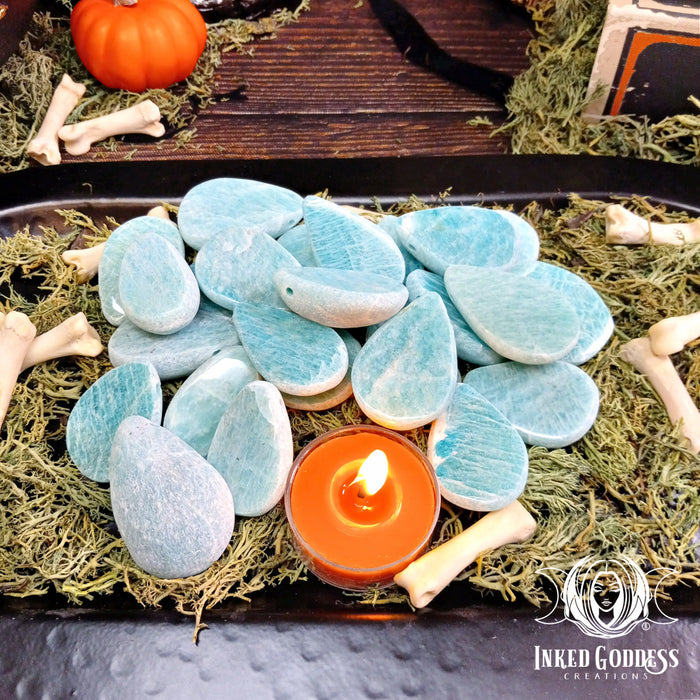 Amazonite Scrying Tear Pendant for Soothing Divination
Create a direct link with the divine with an Amazonite Scrying Tear Pendant from Inked Goddess Creations.
Amazonite is a powerful yet soothing gemstone. It is known for invoking calm and clarity and insight into one's meditations and spellwork. It can help with success, and its blue-green coloring helps enhance communication, especially communication from the heart. Physically, it is said to be associated with the thyroid gland and can help with remedying fatigue or helping to heal the results of trauma. Often called the Stone of Courage and Stone of Truth, Amazonite reveals inner truths and empowers one to discover their own integrity.
These beautiful pendants are tear-shaped to enhance Amazonite's ability to calm and soothe. We have called them "scrying pendants" because one side is smooth and polished, perfect for gazing into, while the other side is rounded and raw. There is a hole drilled through the top, so you crafty witches can turn this pendant into a beautiful necklace, or hang it from a chain to scry on the go.
Scrying is the practice of gazing into a reflective surface and catching glimpses of messages from the spirit world. It is thought to be a direct connection between both realms, making it a useful tool for divination.
Each order is for one Amazonite Scrying Tear Pendant. The pendant is approximately 1.5" x1" in size. Each pendant will be intuitively chosen at the time of order processing, but please allow for variances in shape or color.
Other items in the picture are for size reference only and are not included with the purchase.
Metaphysical properties of Inked Goddess Creations products are not guaranteed; I supply the tools, you supply the magick. Products should not be used in place of proper professional advice or treatment. If skin irritation occurs with body products, discontinue use immediately. Never leave a burning candle unattended. Internal use of herbs is not recommended, especially without having first consulted your doctor or a certified herbalist.