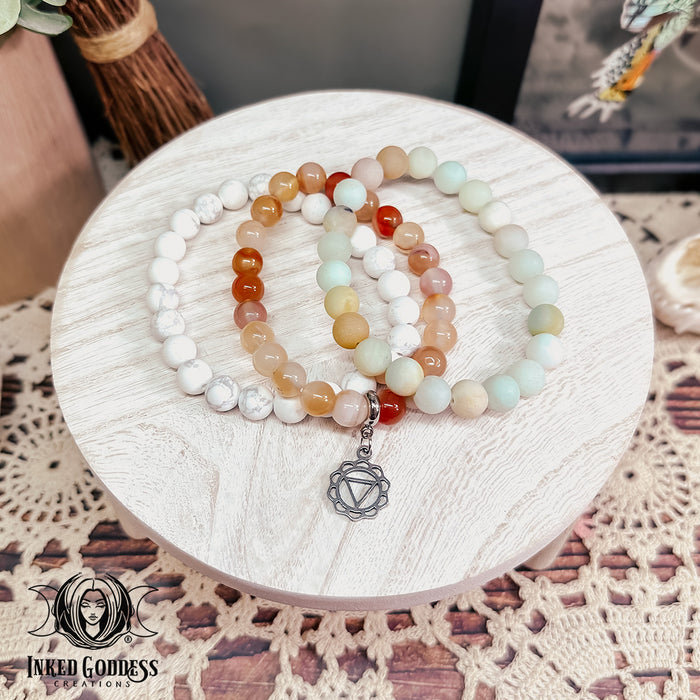 Ambition Bracelet Bundle- Agate, Howlite, Amazonite
Achieve your goals and manifest your dreams with the help of our Ambition Bracelet Bundle, exclusive to Inked Goddess Creations.
Our Ambition Bracelet Bundle is the perfect ally for your ambitious endeavors! This set of Agate, Howlite, and Amazonite crystals encourages out-of-the-box thinking, helping you make leaps and bounds toward achieving your desired goals. Put 'em together and watch their collective power work its magick! (And look stylish while you're at it.)
Our new bracelet bundles were created using a perfectly selected combination of gemstones that work harmoniously together for specific intentions. Each of these bundles is a limited run as our bracelet inventory is constantly evolving. 
The Ambition Bracelet Bundle contains:

Solar Plexus bracelet made of Agate polished sphere beads with a Sacral Chakra charm. Natural agate boosts your self-esteem and self-confidence, helping to also keep you grounded and level-headed. 
Howlite matte sphere bead bracelet. Howlite strengthens memory, stimulates the desire for knowledge, and helps one obtain goals. It teaches patience and helps to eliminate rage, pain, and stress. Howlite facilitates awareness and encourages emotional expression. It aids in creativity and artistic expression.
Amazonite matte sphere bead bracelet. Amazonite is a crystal that invites calming energies that soothe the spirit and provides a sense of balance and harmony. Often called the Stone of Courage and Stone of Truth, Amazonite reveals inner truths and empowers one to discover their own integrity.
This combination of gemstones activates your personal power center to help you move forward with achieving your goals. It inspires creative thinking on how to quickly and easily make your dreams a reality. 
Each order is for 1 bundle of 3 gemstone bracelets. Other items in the picture are for size reference only. 
Other items in the picture are for size reference only and are not included with the purchase.
Metaphysical properties of Inked Goddess Creations products are not guaranteed; I supply the tools, you supply the magick. Products should not be used in place of proper professional advice or treatment. If skin irritation occurs with body products, discontinue use immediately. Never leave a burning candle unattended. Internal use of herbs is not recommended, especially without having first consulted your doctor or a certified herbalist.
Ambition Bracelet Bundle
Absolutely love it! It's beautiful and the energy is awesome! I'm going to be wearing this all the time! Thank you!