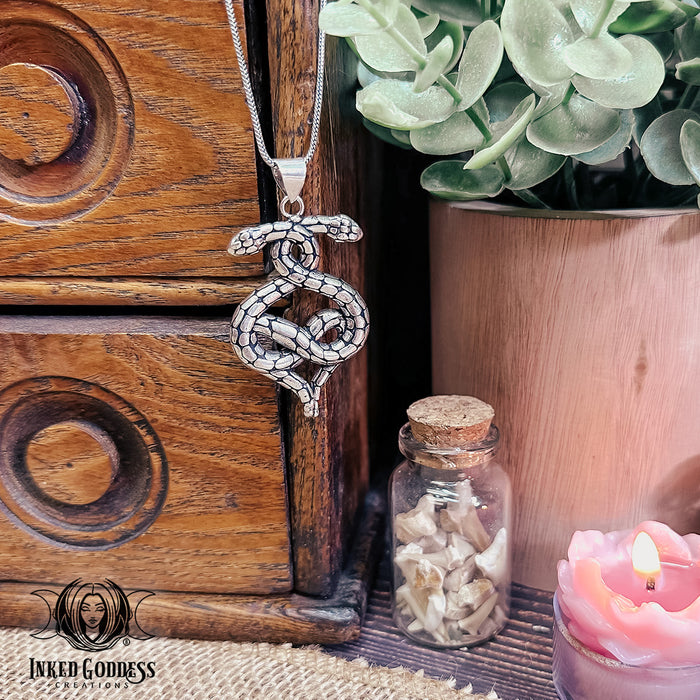 Double Snake Necklace for Transformation
Adorn your body with a beautiful symbol of transformation with this Double Snake Pendant from Inked Goddess Creations.
This beautiful Double Snake Necklace symbolizes the creative life force within us all, rebirth, and transformation. Just as the snake sheds its skin, it reminds us that we, too, can be reborn at any time just by shedding what no longer serves us. For this pendant, two snakes are coiled together, symbolizing the kundalini experience of the flow of energy from the root chakra, coiling around the spine as it travels to the crown chakra. This becomes a symbol of one's ability to transcend from the earthly to the heavenly in spiritual awareness and maturation.
The pendant is 1" x 2" in size and has a 22" chain.
Other items in the picture are for size reference only and are not included with the purchase.
Metaphysical properties of Inked Goddess Creations products are not guaranteed; I supply the tools, you supply the magick. Products should not be used in place of proper professional advice or treatment. If skin irritation occurs with body products, discontinue use immediately. Never leave a burning candle unattended. Internal use of herbs is not recommended, especially without having first consulted your doctor or a certified herbalist.