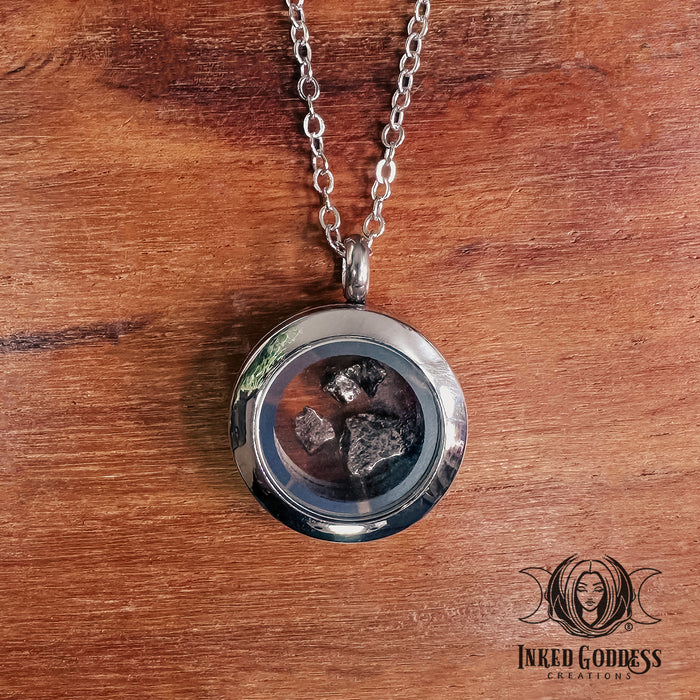 Meteorite Necklace for Spiritual Communication
Boost your self-confidence and tap into other worlds with this Meteorite Necklace from Inked Goddess Creations.
This stylish Meteorite Necklace will have you soaring to otherworldly heights! Containing actual pieces of meteorites, it's truly out of this world! Enjoy a galactic level of chic when you wear this beautiful necklace.
Meteorites are extraterrestrial in origin, making them an easy connector to worlds outside of ours. Meteorites open your third eye and crown chakras for spiritual communication and messages while opening your root chakra to allow Kundalini energy (divine energy) to flow from the base of your spine upward through your 7 chakras. Meteorites can also help boost self-confidence and strength.
Each listing is for 1 meteorite necklace, with the pendant measuring 1" in diameter, on a 21" chain.
Other items in the picture are for size reference only and are not included with the purchase.
Metaphysical properties of Inked Goddess Creations products are not guaranteed; I supply the tools, you supply the magick. Products should not be used in place of proper professional advice or treatment. If skin irritation occurs with body products, discontinue use immediately. Never leave a burning candle unattended. Internal use of herbs is not recommended, especially without having first consulted your doctor or a certified herbalist.
Stellar Necklace 🌠
Simple and yet stunning necklace. This is great to have and wear for a Celestial witch like me! 🙂🤓