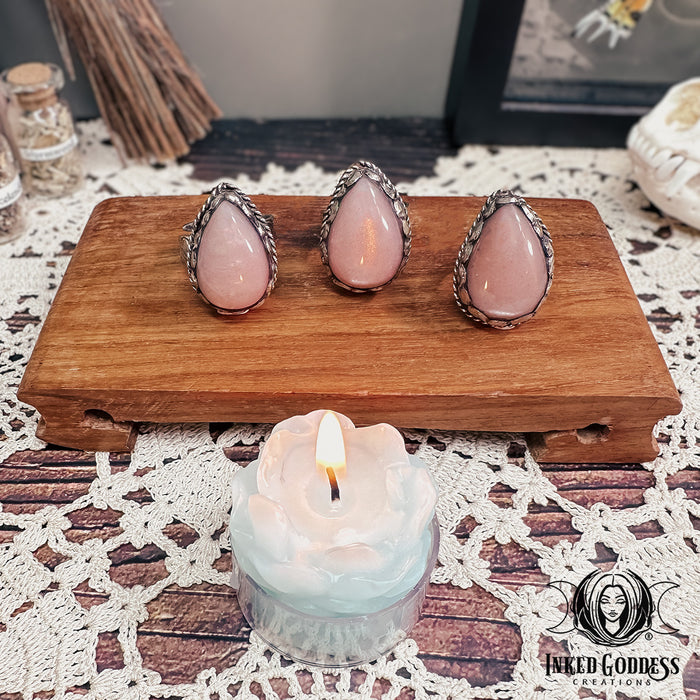 Peach Moonstone Tibetan Adjustable Ring for Inward Thinking
Add positive energy for inward thinking to your wardrobe with a Peach Moonstone Tibetan Adjustable Ring from Inked Goddess Creations.
This Peach Moonstone Tibetan Adjustable Ring is perfect for taking your inner journey to the next level! Made of beautiful Peach Moonstone gemstone, it's the perfect accessory for inward thinking and reflection! Who knew looking inward could be so stylish?
Peach Moonstone is a variation of moonstone with shades of light pink and peach and hints of tan brown. This unique gemstone exhibits self-love vibrations that help one connect deeper with their inner being and rediscover hidden passions. Peach Moonstone makes space for inward thinking, making it a great gemstone to use in a meditation practice.
These beautiful Tibetan rings are made from a metal alloy with designs carved into the metal base. If you have sensitive skin, it is best to coat the inside of the ring with clear nail polish before wearing.
Each listing here is for one Peach Moonstone Tibetan ring, measuring 1.25" x .75" and weighing 1 oz. Please allow for natural variances in coloring and shape, as you will not get one of the exact ones pictured above.
Other items in the picture are for size reference only and are not included with the purchase.
Metaphysical properties of Inked Goddess Creations products are not guaranteed; I supply the tools, you supply the magick. Products should not be used in place of proper professional advice or treatment. If skin irritation occurs with body products, discontinue use immediately. Never leave a burning candle unattended. Internal use of herbs is not recommended, especially without having first consulted your doctor or a certified herbalist.
Such a beautiful and powerful ring!
I was so glad I didn't miss out on one of these! I haven't worked with peach moonstone much, but this ring was so beautiful that I had to have it. It's been amazing during some deep meditations and also just to wear throughout the day. It's adjustable but adjusts very smoothly and doesn't get snagged on anything. Absolutely recommend!