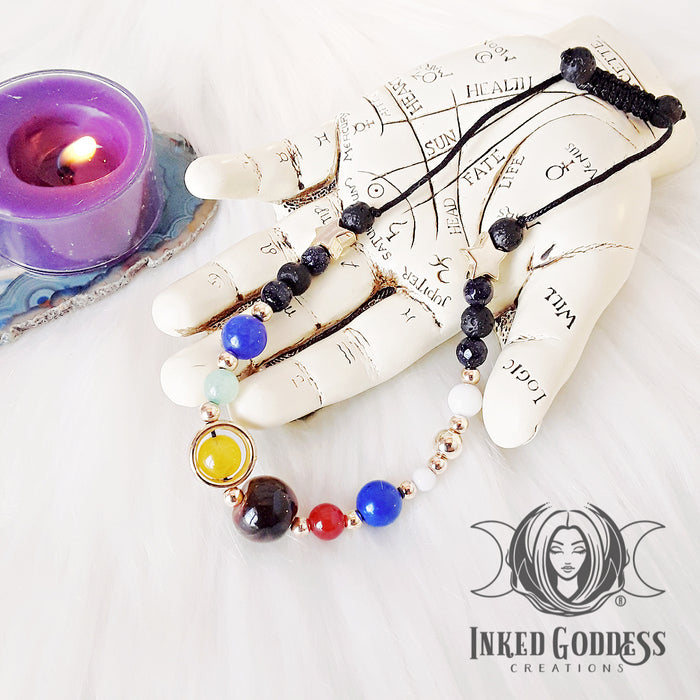 Gemstone Solar System Bracelet
Add some planetary magick to your wardrobe with a Gemstone Solar System Bracelet from Inked Goddess Creations.
These Gemstone Solar System Bracelets are made of polished, sphere-shaped Blue Goldstone beads that represent the galaxy, with small gemstone beads to represent each planet. They are perfect for any witch's wardrobe and doubles as a way to carry the magickal benefits of crystals and the planets with you while on the go.
Each order is for 1 Solar System Bracelet. We have several in stock, so understand you may not get one of the ones pictured above, but all the bracelets are similar in size and coloring.
Other items in the picture are for size reference only and are not included with the purchase.
Metaphysical properties of Inked Goddess Creations products are not guaranteed; I supply the tools, you supply the magick. Products should not be used in place of proper professional advice or treatment. If skin irritation occurs with body products, discontinue use immediately. Never leave a burning candle unattended. Internal use of herbs is not recommended, especially without having first consulted your doctor or a certified herbalist.
Solar bracelet!
This bracelet is super cute, very well made. I love that it's a pull string bracelet. This can definitely be a great present as well
Adjustable Gemstone Solar System Bracelet 💫
I'm most definitely over the moon with my Solar System bracelet. 🌗 :D For anyone curious about which gemstones represent each planet: Mercury (Deep Sea Scallop), Venus ♀️ (Copper bead), the Moon 🌙 (Opal), Earth 🌍 (Sea Sediment Jasper), Mars 🔴 (Red Agate), Jupiter (Tiger's Eye), Saturn (Whitelip shell), Uranus (Blue Cat's Eye stone), and Neptune 🔵 (Lapis Lazuli). The bracelet also has black Lava Rock beads for the Asteroid belt as well as Blue Goldstone beads. Fyi, the bracelet doesn't include Pluto. :\ I like the adjustable string since I have small wrists. :) Thanks IGC!