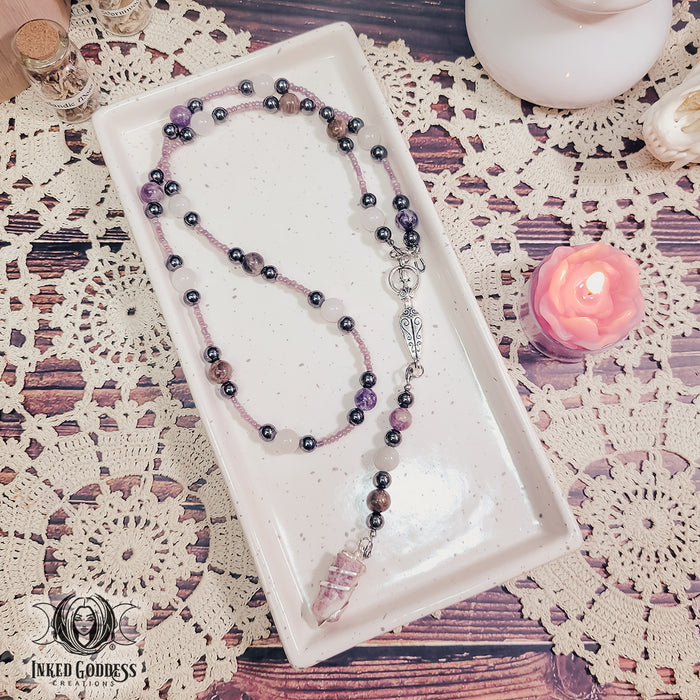 Spiritual Connection Witch's Beads- Handmade by Morgan, One-of-a-Kind
Facilitate an open pathway to your divine energy source with the help of the Spiritual Connection Witch's Beads, exclusive to Inked Goddess Creations.
Witch's Beads are also known as pagan prayer beads, meditation beads, or spell beads. They are used as a focal point during meditation or spells to help you deepen your meditative state and unlock your magick within.
The witch's beads from Inked Goddess Creations are very unique, in that they can serve 3 purposes:
A necklace that measures 22"
A bracelet that can be double or triple wrapped around the wrist, with a small section that hangs down to easily hold in your palm when meditating.
Prayer or meditation bead set that you hold in your hand and use similarly to rosaries.
This versatile design is from Morgan, owner of Inked Goddess Creations, as she wanted a functional, gorgeous piece of meditation jewelry that was also high on witch energy. Each strand is handmade by her, and the gemstone beads are carefully chosen to amplify the intention of the strand itself.
The Spiritual Connection Witch's Beads are made from Lepidolite with Pink Tourmaline, Gray Moonstone, Ice Mountain Jade, and Hematite gemstone beads. It was designed to help you ground deeply into the earth so that you can reach amazing heights during meditation and spellwork. The Lepidolite with Pink Tourmaline opens your third eye and heart chakras so that you are connecting your emotional self to your spellwork, divination, or meditation. Gray Moonstone helps open your third eye and crown chakras for divine messages. Ice Mountain Jade helps balance and calm your energy during your session. Hematite helps you ground and protect while you are performing your magick. In between the gemstones are glass seed beads, which keep the witch's beads light and flexible, but add a touch of style and elegance to the set. A silver Goddess charm and a Lepidolite gemstone point help amplify the energy of this witch's bead strand!
This is a one-of-a-kind witch's beads strand!
As stated above, these witch's beads can be used 3 ways (please see pictures for them in use as a necklace and bracelet). The strands measure approximately 26", with the necklace portion measuring 22". They have a lobster clasp found in the middle of the necklace, next to the charm, for easy wear as a necklace.
Other items in the picture are for size reference only and are not included with the purchase.
Metaphysical properties of Inked Goddess Creations products are not guaranteed; I supply the tools, you supply the magick. Products should not be used in place of proper professional advice or treatment. If skin irritation occurs with body products, discontinue use immediately. Never leave a burning candle unattended. Internal use of herbs is not recommended, especially without having first consulted your doctor or a certified herbalist.