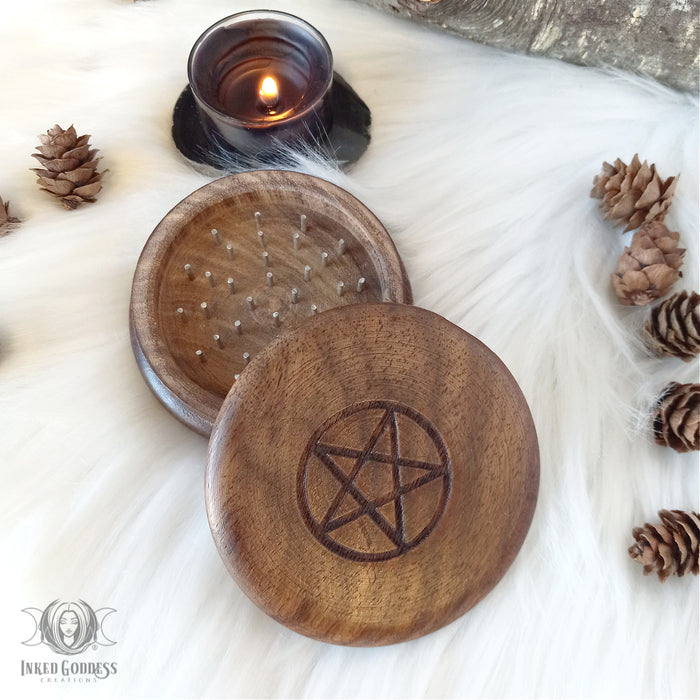 Carved Wooden Herb Grinder - Triple Moon, Goddess, Pentacle or Triquetra
Add some witchy decor to the hearth of your home with these Wood and Metal Herb Grinders from Inked Goddess Creations.
These Wood and Metal Herb Grinders really are the perfect addition to any kitchen witch's sacred space! Dried herbs are placed within the metal teeth, closed within the grinder, and then twist the grinder back and forth to grind the herbs down for incense, powders, kitchen witch recipes, etc.
The Spiral Goddess represents divine feminine energy and resonates with the nurturing energies of growth, compassion, and comfort. She reminds us that the spiral of life is always turning. 
The Pentacle is a symbol of protection and represents the 5 elements of Earth, Air, Fire, Water, and Spirit. The Triquetra represents the union of the Mind, Body, and Soul, and brings blessings into your life.
The Triple Moon represents the Goddess in all of her phases- Maiden, Mother, and Crone and also the changing of the seasons and life. 
The Triquetra - is a Celtic knot symbolizing the "Power of Three". This can be applied to the Triple Goddess and the cycle of life, death, and rebirth. It is also a popular symbol representing the family element of  "mother, father, child". When placed inside a circle, it is referred to as the "trinity knot".

Each order is for 1 Wood and Metal Herb Grinder, which measures approximately 3" in diameter.
Other items in the picture are for size reference only and are not included with the purchase.
Metaphysical properties of Inked Goddess Creations products are not guaranteed; I supply the tools, you supply the magick. Products should not be used in place of proper professional advice or treatment. If skin irritation occurs with body products, discontinue use immediately. Never leave a burning candle unattended. Internal use of herbs is not recommended, especially without having first consulted your doctor or a certified herbalist.
Very pretty but...
It's very pretty but isnt finished on the inside so it does leave wood dust and small splinters in the plant materials. I plant to oil it in hopes to lessen the particles as I intended it for use with smokable herbs.
Super Cool.
Super cool and convenient. Price is very affordable.