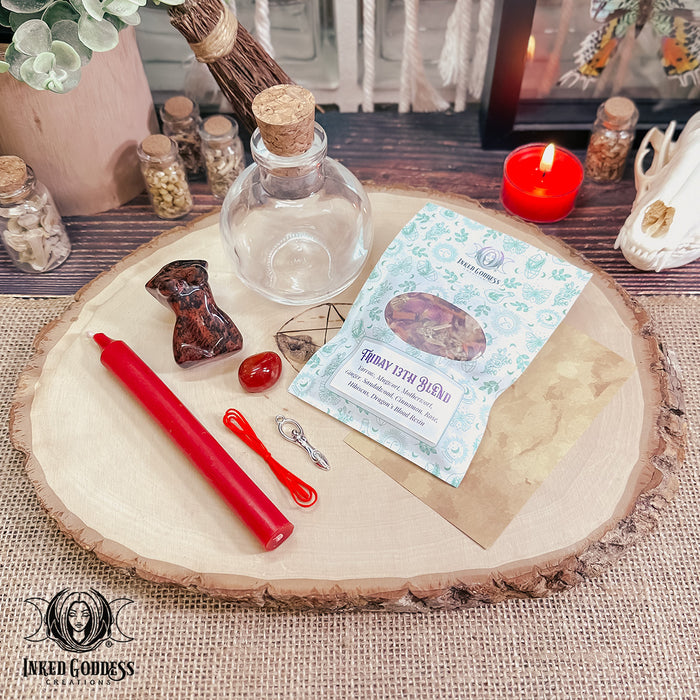 Friday the 13th Spell Kit for Female Empowerment
Celebrate the true power behind Friday the 13th with the Friday the 13th Spell Kit, exclusive to Inked Goddess Creations.
We have a Friday the 13th in October this year!
The fear associated with Friday the 13th comes from many Christian constructs put into place hundreds of years ago as they were trying to abolish paganism. For witches, Friday the 13th can be a day of power, facing your fears, and embracing your sexuality, especially for women!
Friday the 13th is perfect for:
Honoring the Divine Feminine
Transformation Magick
Cleansing Away Aspects of Yourself You No Longer Need
Facing Your Fears
Feminist & Matriarchal Magick
Sex Magick
Self Love & Beauty Magick
This Friday the 13th Spell Kit was created by us to help you embrace the true energy of this magickal day. This kit is perfect for helping you claim your divine feminine energy and use it for any of the purposes above!
The kit contains:
Mahogany Obsidian Female Torso Gemstone- Mahogany Obsidian is a stone of protection and power, activating the lower three chakras for stability, self-confidence, passion, and empowerment. 
Glass Jar to make an Empowerment Spell Jar
Friday the 13th Herb Blend for Empowerment- Yarrow, Mugwort, Motherwort, Ginger, Cinnamon, Red Sandalwood, Rose, Dragon's Blood, Hibiscus
Red Chime Candle to seal the bottle
Tumbled Carnelian to include in your spell jar
Goddess Charm for the bottle
Red Twine to attach the charm to the bottle
Paper for your intention
We have 13 of these kits available for October's Friday the 13th.
Each order is for 1 Friday the 13th Spell Kit, with contents listed above.
Other items in the picture are for size reference only and are not included with the purchase.
Metaphysical properties of Inked Goddess Creations products are not guaranteed; I supply the tools, you supply the magick. Products should not be used in place of proper professional advice or treatment. If skin irritation occurs with body products, discontinue use immediately. Never leave a burning candle unattended. Internal use of herbs is not recommended, especially without having first consulted your doctor or a certified herbalist.
Spell time
Quality spell ingredients put together. I love the spell bags from this company.