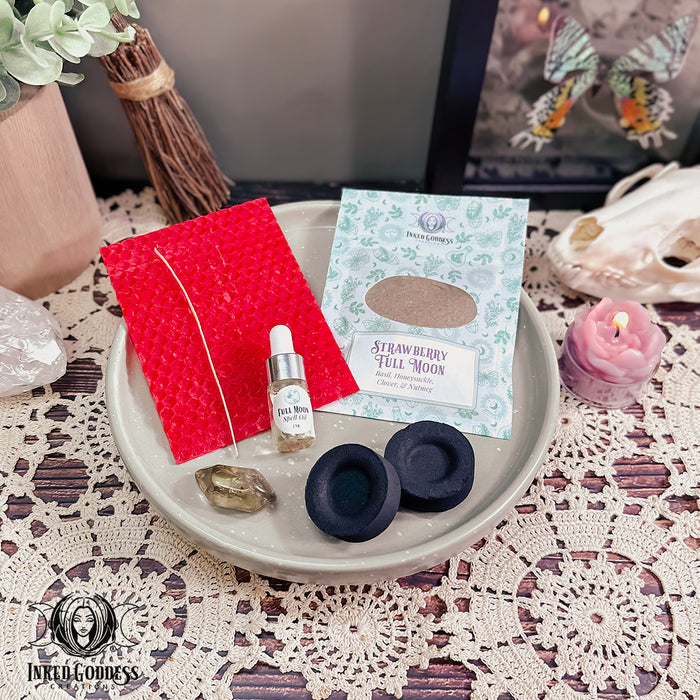 Strawberry Full Moon Ritual Kit for June 3rd Sagittarius Full Moon- DIY Beeswax Candle
Work with the Sagittarius Full Moon's energy on June 3rd with this Strawberry Full Moon Ritual Kit, exclusive to Inked Goddess Creations!
Unlock the magick of the Strawberry Full Moon on June 3rd with this astrologically-inspired DIY beeswax candle kit! This spell kit will have you feeling the moon's power with a personalized touch. Make this moon a magickal one!
Our Full Moon kits are now made explicitly for each Full Moon so you can tap into each individual moon's energy throughout the year to help you manifest your dreams. For each month's kit, we've considered the astrological sign of the moon, the common name of the moon, the dominant element for the moon, the magickal properties, herbs, gemstones, and even the color associated with that moon's energy. Each month, you'll create your beeswax mini candle and dress it to help manifest your intentions!
The June 3, 2023, Strawberry Full Moon falls in the sign of Sagittarius, which will resonate with opportunity and assertiveness. This kit contains:
4" x 3" sheet of red beeswax, which is good for 1 rolled mini candle
Wax-coated wick
3 ml dropper bottle of Full Moon Spell Oil
Strawberry Full Moon Powdered Herb Blend- Basil, Honeysuckle, Clover, Nutmeg 
Citrine polished point gemstone
2 Charcoal Discs to burn some powdered herb blend during ritual
Satin bag
Beeswax Candle Instructions
While there are instructions for how to roll the beeswax candle, there are no other overall spell instructions with this kit. We created it to give witches a way to honor the full moon and charge the crystal under the full moon so they can then carry that gemstone with them. 
Please note: You MUST put the wick on the very edge of the beeswax before rolling in order for the wick to be centered when you burn it. You must roll the beeswax tightly to ensure a safe burn. Because these candles will be dressed with oil and herbs, they will burn hotter and the flame higher than most mini candles. Please place your mini candle within a holder and then on a metal or fire-proof tray to burn it, and keep an eye on it constantly. It burns for about 20-50 minutes depending on how tightly you roll it. Wax drippage will probably occur and will not affect the outcome of your spell. Do NOT use the entire powdered herb blend on the candle, as this will be extremely unsafe. We have provided 2 charcoal discs so that you can also burn the herb blend as incense during your ritual.
Each order is for 1 Full Moon Ritual kit with the components listed above.
Other items in the picture are for size reference only and are not included with the purchase.
Metaphysical properties of Inked Goddess Creations products are not guaranteed; I supply the tools, you supply the magick. Products should not be used in place of proper professional advice or treatment. If skin irritation occurs with body products, discontinue use immediately. Never leave a burning candle unattended. Internal use of herbs is not recommended, especially without having first consulted your doctor or a certified herbalist.
The Perfect Little Kit!
I love these full moon kits! They really are perfectly sized and leaves you to do your magic your way with a bit of help from Morgan. These are my favorite things and I look forward to each one just as much as my regular monthly subscription box. FYI - The full moon oil smells so divine and I love both dressing the candle with this oil and using it on myself.
Fun DYI
I love these full moon kits! Easy to use but still meaningful.