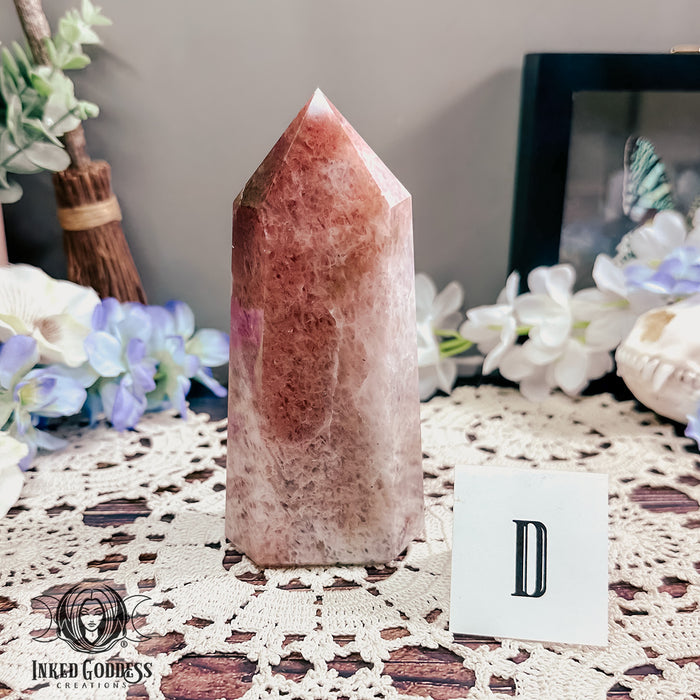 Pink Amphibole Quartz Tower for Spiritual Connection
Raise the vibes in your sacred space with a Pink Amphibole Quartz Tower from Inked Goddess Creations.
Amphibole Quartz is a very high-vibration crystal that radiates loving energy like no other. Amphibole Quartz appears to have entire worlds found deep within each specimen. It activates the Third Eye Chakra, helping to connect to the spiritual realm during astral traveling or lucid dreaming. Use Amphibole Quartz during meditation to connect with your spirit guides and improve your psychic abilities.
These specimens are known as Pink Amphibole for their distinctive rosy coloring.
A gemstone tower is a great addition to your altar or sacred space. Towers are carved with a point on one end and the opposite end flat, which directs energy down from the heavens and outward, filling your sacred space with positive energy. Towers can also amplify the energy of other gemstones around them.
Each order is for 1 Pink Amphibole Flame Quartz Tower as shown below:
A- measures 3.5" x 1.75" x 1", weighing 6 oz.  
B- measures  4.5" x 2" x 1.25", weighing 12 oz.
C- measures 5.5" x 2" x 1.25" weighing 1 lb. 
D- measures 5" x 2" 1.5" weighing 1 lb. 
E- measures 7" x 2" x 1.5" weighing 1.25 lb. 
F- measures 7" x 2.5" x 1.5" weighing 1 lb. 5 oz.  
Other items in the picture are for size reference only and are not included with the purchase.
Metaphysical properties of Inked Goddess Creations products are not guaranteed; I supply the tools, you supply the magick. Products should not be used in place of proper professional advice or treatment. If skin irritation occurs with body products, discontinue use immediately. Never leave a burning candle unattended. Internal use of herbs is not recommended, especially without having first consulted your doctor or a certified herbalist.