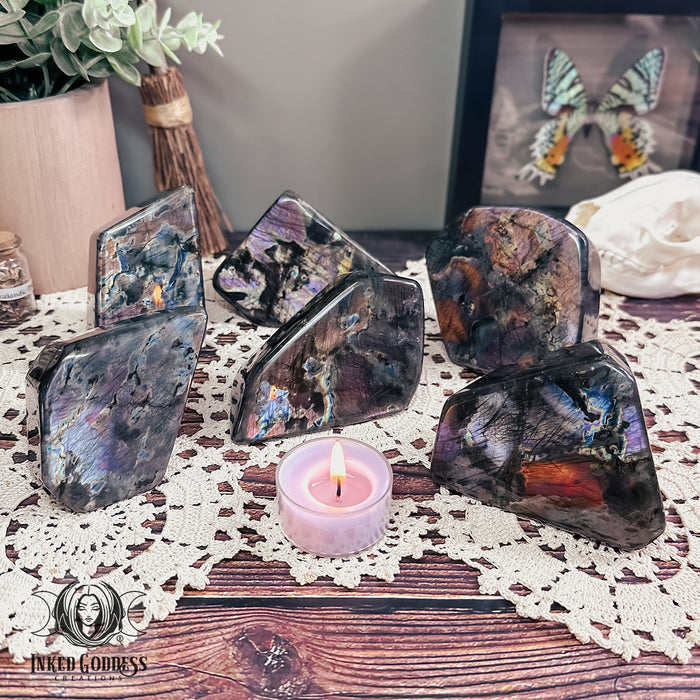 Spectrolite Freeform for Heightened Intuition
Enhance your communication and intuition with a Spectrolite Freeform from Inked Goddess Creations.  
Spectrolite is a rare, extra-flashy form of Labradorite that originates in Finland. It is an excellent protection stone, helping to ward off negative energies. It is a stone of the throat and third eye chakras and as such, it is a communication stone and a stone that aids in intuition and insight. It also aids in bolstering bravery and courage, speaking up and speaking out, creativity, and discovery.  It encourages one to be their very best. Spectrolite is a highly spiritual stone, helping to raise your vibration to connect you with your divine energy source. It is an aura cleanser, stabilizer, and strengthened. 
Each order is for 1 Spectrolite Freeform. We have various sizes as listed:
Small- measuring 3" x 1.75" x 1"
Size A- measuring 5.25" x 3.75" x 2" 
Size B- measuring 5" x 4" x 2.25"
Size C- measuring 6" x 3.75"x 2" 
When ordering a small, we will intuitively choose one for you at the time of order fulfillment. If ordering A, B, or C, you will receive the exact one pictured here. Other items in the picture are for size reference only.
Other items in the picture are for size reference only and are not included with the purchase.
Metaphysical properties of Inked Goddess Creations products are not guaranteed; I supply the tools, you supply the magick. Products should not be used in place of proper professional advice or treatment. If skin irritation occurs with body products, discontinue use immediately. Never leave a burning candle unattended. Internal use of herbs is not recommended, especially without having first consulted your doctor or a certified herbalist.