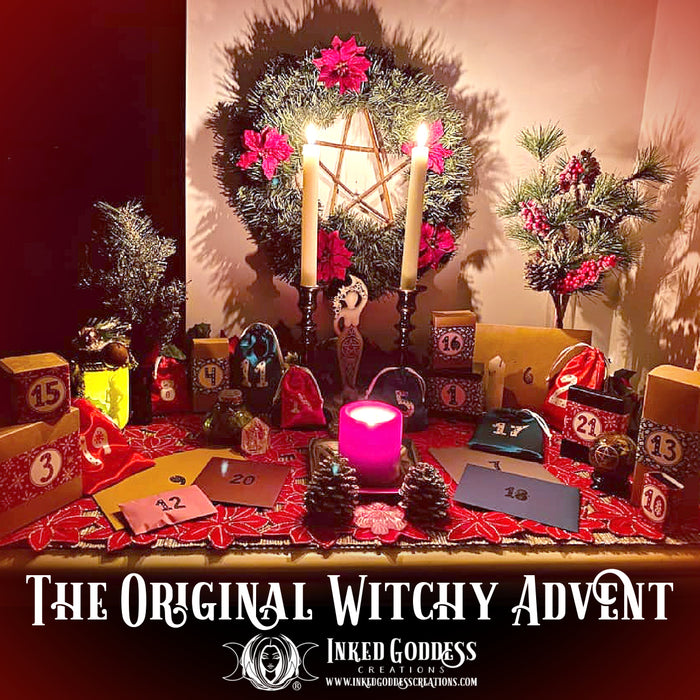 2023 Witchy Advent Calendar- 21 Days of Yule Gifts
This is the listing for our 2023 Witchy Advent Calendar. Please READ ALL OF THIS LISTING AND FOLLOW ORDER DIRECTIONS, OR YOUR ORDER WILL BE CANCELED.
ONCE WE SELL OUT OF THIS LISTING, THERE WILL BE NO MORE FOR 2023.
By purchasing this listing, you agree to the guidelines posted here:
1. ADVENTS ARE TO BE PURCHASED BY THEMSELVES. DO NOT ADD NON-ADVENT ITEMS TO YOUR ORDER. A maximum of 2 advents can be ordered together in the same order. If you are ordering more than 2 advents, please place separate orders. One address per order, as well. If you want to send one to a loved one as a gift, please place an order with their information in the shipping section. We can not split an order to ship to 2 different places. This is because the advents need to incur their own shipping charges for November.
2. COUPON CODES WILL NOT BE ACCEPTED ON ADVENTS. If you use a coupon code on this, we will either cancel your order or send you an invoice for the coupon code amount. PLEASE RESPECT THIS DECISION WE HAVE MADE, as it keeps the price of the advent low for our customers.
3. ADVENTS ARE NON-REFUNDABLE.
4. This Witchy Advent is a mixture of gemstones and non-gemstone items.
5. Advents will not ship until after November 15th, 2023.
6. If your shipping address changes between the time you order and November 15th, you need to email us at support@inkedgoddesscreations.com so we can change it in our shipping program. Changing the address in your account after the order has been placed will not change the shipping on the advent.
Celebrate 21 days of Yule with a magickal supply each day through December 21st with the Witchy Advent Calendar from Inked Goddess Creations.
Advent calendars have been used for hundreds of years to count down the time until a special event, most namely- Christmas. For witches, the countdown to our sacred Yule should be just as momentous and fun. It is from this idea that the Witchy Advent Calendar was born, giving those who celebrate Earth-centered religions 21 magickal days of gifts from December 1st- December 21st.
Each box comes with 21 bagged gifts, numbered 1-21. One package per day is to be opened, starting with gift #1 on December 1st, gift #2 on December 2nd, and so on, until the last present is opened on December 21st, which is Yule. Each gift is different, many of them handmade, and many of them exclusive to Inked Goddess Creations. A few of the gifts were made specifically for this set, and will not be available outside of the Witchy Advent Calendar. This set will definitely stock your witchy cabinet, help empower your Yule ritual, and add some wonder and merriment to this sacred time of year. 
Inked Goddess Creations is the originator of the witchy advent calendar to count down to Yule! We began them in 2017 after tons of research and finding there were no advent calendars for witches to celebrate the coming of the Winter Solstice. The response was amazing, so these will be an every-year occurrence here, as a witchy advent calendar from Inked Goddess Creations is an original, not an imitation!!
The retail value of all 21 gifts together is over $150! We want you to celebrate the magick of Yule without breaking the bank this time of year. This set is also a perfect gift for a witchy friend or loved one, who will be thrilled to open their box to find a Yule-themed product experience that lasts for 21 days.
Please note: The packaging will be different than what is pictured here. This is a picture from a past advent calendar, as well as customer photos of our past advent calendars.
We do understand that there will be a temptation to open all 21 gifts as soon as you get your package. We strongly advise you to open them on their specific days, as we planned certain gifts for certain magickal times. But if the temptation is too much, we do ask that you do not post pictures or the contents on social media, until after the designated day for each gift, as to not spoil it for the other advent calendar customers.
Make your countdown to Yule truly magickal this year with the Witchy Advent Calendar from Inked Goddess Creations!
Other items in the picture are for size reference only and are not included with the purchase.
Metaphysical properties of Inked Goddess Creations products are not guaranteed; I supply the tools, you supply the magick. Products should not be used in place of proper professional advice or treatment. If skin irritation occurs with body products, discontinue use immediately. Never leave a burning candle unattended. Internal use of herbs is not recommended, especially without having first consulted your doctor or a certified herbalist.
Beautiful reusable packaging and a gorgeous surprise every day
I'm only 3 days in, but every day so far has been worth the wait! And the packaging each day is gorgeous and reusable!! Loving my advent calendar!
2023Advent box
I was super stoked and opened it immediately...no spoilers. It's an awesome box and have regifting a couple items. Looking forward for next year's box 🎁
This is the first year I've bought the advent calendar and I'm super excited. All the gifts look cute in their packaging and I can't wait until December 1st to start opening them. Thanks for all the hard work you put into these!
Best Present to Myself!!!
This is my 2nd year to get the Witchy Advent, and I can't wait until December 1st! Last year was full of so many awesome things. I can't wait to see what is included this year. I love getting to open a present just for me every morning. However long IGC makes Witchy Advents is how long I will buy them!!!
great
I just got it two days ago. Not going to open it till Dec 1
OMG! How fun!
I haven't opened any of the little advent packages yet, but they are so cute'. I know I'm going to have a lot of fun opening each package each day.