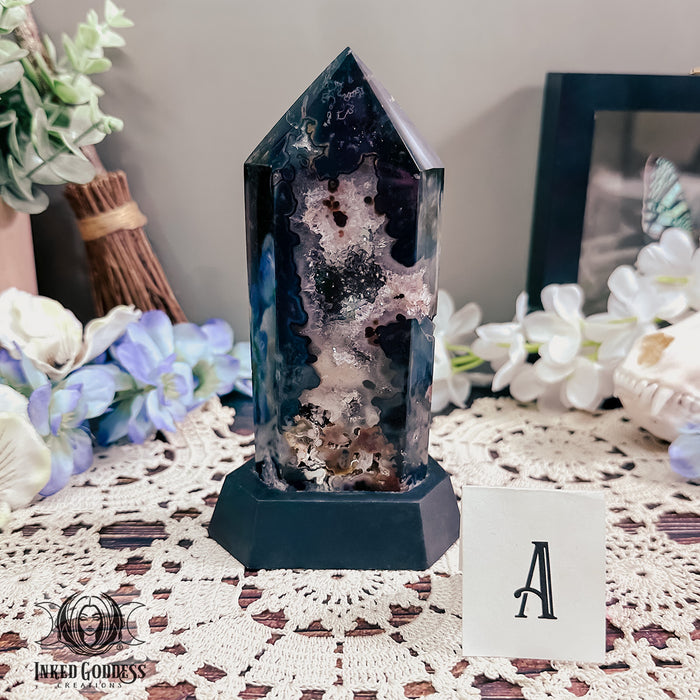 Agate Druzy Portal on Wooden Stand for Otherworldly Travel
Add a powerful focal piece to your altar or sacred space with an Agate Druzy Portal on Wooden Stand from Inked Goddess Creations.
The gorgeous geode specimens were lovingly nicknamed "Portals" in-house, as gazing into their center can help transport you to other realms. These make amazing focal points for meditation and astral travel, as you can envision yourself moving through the gemstone portal to your otherworldly destination.
These portals are made of Agate gemstone, and each one has a crystal geode druzy specimen in it. The outside of the agate has been smoothed and polished, showing many layers within the specimen. Each portal is different, so once we sell out of one, it will no longer be available. Each portal has a wooden stand.  
Druzy geodes in general are known to have very strong energetic qualities. They are believed to be able to help one see the whole picture of a given situation, and shed light on new perspectives. Geodes are perfect for helping clear one's mind before meditation, and agates themselves are great grounding stones. They have been known to help strengthen one's spirituality and set of beliefs.
Each specimen is one-of-a-kind; once it sells, it's gone.
Agate Druzy Portal "A"- measuring 6" x 3" x 1.75" and weighing 11 oz.
Agate Druzy Portal "B"- measuring 5.5" x 3.5" 1.75" and weighing 14 oz.
Agate Druzy Portal "C"- measuring 4.5" x 4.75" x 2.125" and weighing 15 oz.
Agate Druzy Portal "D"- measuring 6" x 4" x 2.5" and weighing 20 oz. 
Agate Druzy Portal "E" - measuring 5.75" x 3.75" x 2.25" and weighing 20 oz. 
Agate Druzy Portal "F" - measuring 6" x 4.5" x 2" weighing 1 lb. 8 oz.
Each order is for the specimen you choose in the drop-down menu. If the item says 'Sold Out,' it is no longer available, and will not be available in the future.
Other items in the picture are for size reference only and are not included with the purchase.
Metaphysical properties of Inked Goddess Creations products are not guaranteed; I supply the tools, you supply the magick. Products should not be used in place of proper professional advice or treatment. If skin irritation occurs with body products, discontinue use immediately. Never leave a burning candle unattended. Internal use of herbs is not recommended, especially without having first consulted your doctor or a certified herbalist.