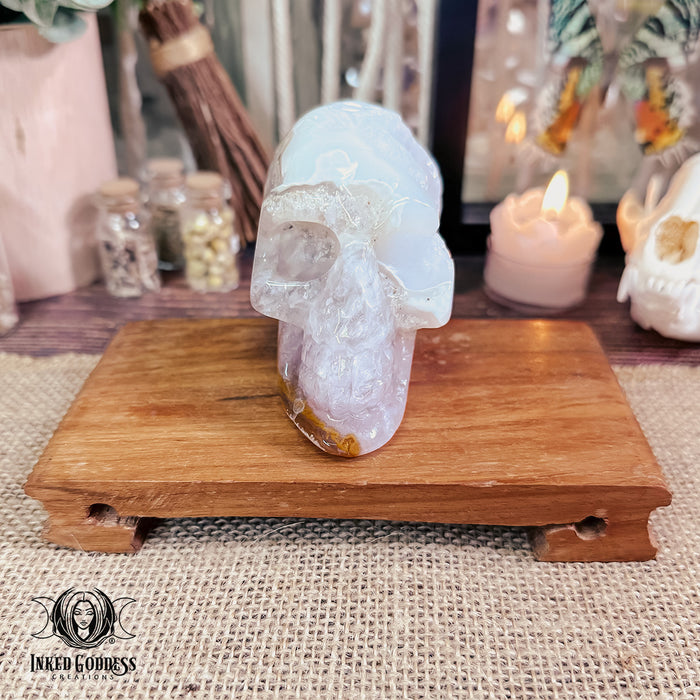 Agate Geode Carved Skull for Protection
Add a beautiful focal piece to your altar or sacred space with an Agate Geode Carved Skull from Inked Goddess Creations.
Deck out your altar and protect your magick with this Agate Geode Carved Skull. Ground yourself with its powerful energy and boost your protection vibes with its intricate skull design. Enjoy its mystical beauty and pack a real metaphysical punch to your spells and rituals!
Agate is an amazing gemstone for grounding and stabilizing energy. It helps you focus your concentration and calm an overactive mind. Agate is also an aura cleanser, helping to bring harmony to your mind, body, and soul. It is a stone of peace and security, especially when life becomes stressful or overwhelming.
Geodes in general are known to have very strong energetic qualities. They are believed to be able to help one see the whole picture of a given situation, and shed light on new perspectives. Geodes are perfect for helping clear one's mind before meditation, and agates themselves are great grounding stones. They have been known to help strengthen one's spirituality and set of beliefs.
This carving is in the shape of a skull. Ancient cultures, such as the Egyptians and the Mayans, have used crystal skulls and skull carvings for thousands of years for healing, guidance, divination, and meditation. These cultures realized that carving gemstones with certain properties into the shapes of a human skull not only increased those natural properties, but also increased the crystal's power to affect the human mind, body, and spirituality.
Skull carvings are great for distance healing because they can be programmed for a certain person and then the energy of that crystal is directed toward them. They can also be held during meditation to help one achieve a deeper spiritual state. The power of intention is also amplified by skulls, making them amazing tools for rituals or spellwork to help focus your thoughts and manifest action. Skull carvings are most effective when you use a gemstone that naturally has the properties of the intentions you are hoping to achieve.
This order is for this exact Agate Geode Skull, measuring approximately 2.5" x 3.5" x 2".
Other items in the picture are for size reference only and are not included with the purchase.
Metaphysical properties of Inked Goddess Creations products are not guaranteed; I supply the tools, you supply the magick. Products should not be used in place of proper professional advice or treatment. If skin irritation occurs with body products, discontinue use immediately. Never leave a burning candle unattended. Internal use of herbs is not recommended, especially without having first consulted your doctor or a certified herbalist.