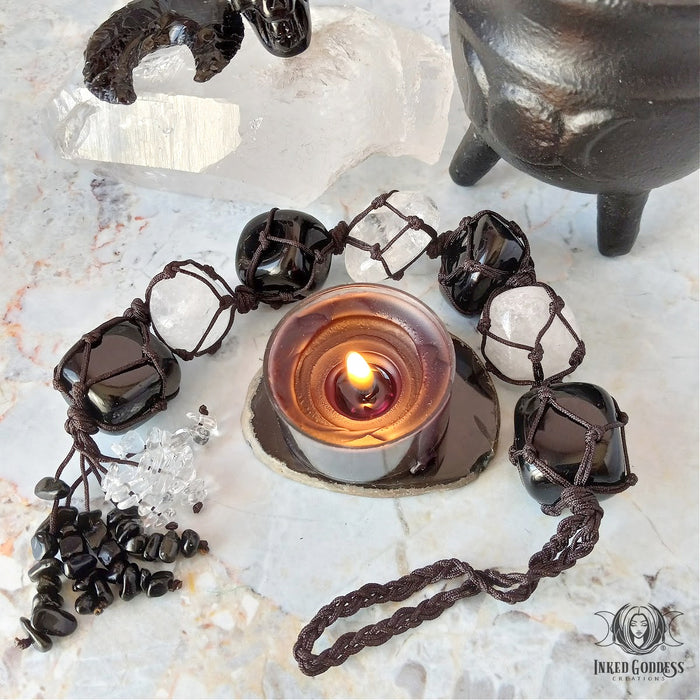 Balance Gemstone Meditation Strand
Balance and align your energy with the help of a Balance Meditation Strand, exclusive to Inked Goddess Creations.
Meditation Strands are similar to Mala beads and are used to help deepen a meditation practice by encouraging a centered and balanced focus. You place the loop on the end around your index finger and dangle the strand down your arm, holding the gemstones as you meditate. You can also use meditation strands to practice gratitude magick as you hold each tumbled stone, using each stone to represent a blessing that you are grateful for.
The Balance Meditation Strand contains alternating Obsidian and Clear Quartz tumbled gemstones, with the same gemstones in chips that dangle from the end. The contrast of a light and dark stone together help create balance, comfort, and stability, while also cleansing away negative energy and protecting you from it attaching to you again.
Clear Quartz is known as the "master healer" and will amplify energy and thought, as well as the effect of other crystals. Clear Quartz draws off negative energy of all kinds. As it resonates with the Crown Chakra, it helps balance and revitalizes the physical, mental, emotional and spiritual bodies, acting as a deep soul cleanser and connecting the mind, body, and soul. Clear Quartz points also enhance psychic abilities while aiding concentration and unlocking memory.
Black Obsidian is a very powerful and creative stone. It increases self-control and releases imbalances and negative energies. Black obsidian is protective and provides support during change. It repels negativity and disperses unloving thoughts. Obsidian resonates with the Root Chakra, making it an extremely grounding stone.
These meditation strands were designed by Morgan, owner of Inked Goddess Creations, and then handmade exclusively for Inked Goddess Creations. Morgan chose the intentions for each meditation strand and the gemstones for each strand, based on the strand's purpose.
Each purchase is for 1 Balance Meditation Strand, measuring 11-12" in length. Please allow for natural variances in coloring and shape, as you will not get the exact one pictured above. *Third picture is simply to demonstrate HOW to use a meditation strand.
Other items in the picture are for size reference only and are not included with the purchase.
Metaphysical properties of Inked Goddess Creations products are not guaranteed; I supply the tools, you supply the magick. Products should not be used in place of proper professional advice or treatment. If skin irritation occurs with body products, discontinue use immediately. Never leave a burning candle unattended. Internal use of herbs is not recommended, especially without having first consulted your doctor or a certified herbalist.
Better than expected!
I bought two of the gemstone meditation strands. One is the Balance and the other the Chakra. When I opened them up today I was quite surprised to find how large the stones are! I knew the strands were about a foot long total, but I still expected the stones to be small. I was so wrong! The stones are each around an inch in length themselves, and the strands are not some light strands. They have a good weight to them. The knots are tight and I expect these will last me for decades!