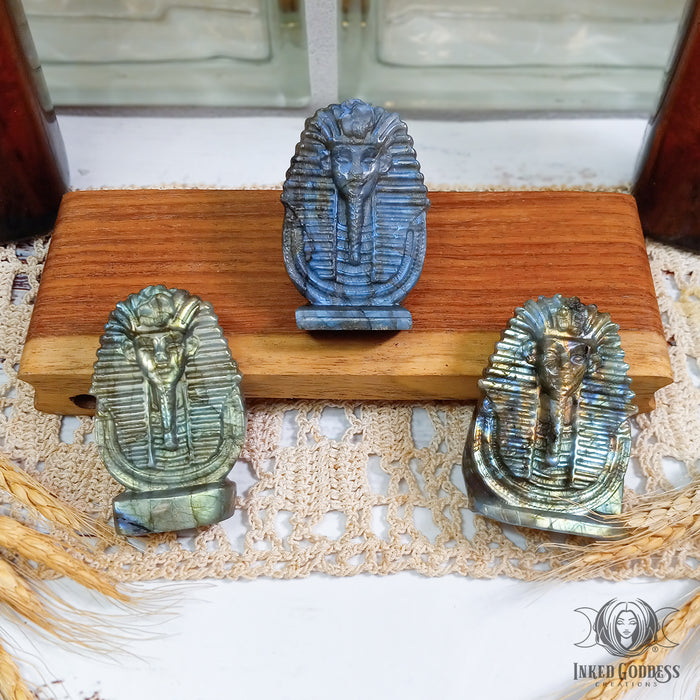 Carved Labradorite Pharaoh Statue for Guidance
Add some divine energy to your altar or sacred space with a Carved Labradorite Pharaoh Statue from Inked Goddess Creations.
The Pharaoh was the earthly liaison between the men of the earth and the gods, often acting as a mediator between the two. The Pharaoh owned the majority of the land of Egypt and was given authority and power to rule autonomously, answering not to man, but only to the gods. Harness this divine spirit in your altar work with this statue. You can call upon the Pharaoh's energy to help you embody their strength, leadership, and ancient wisdom. This statue can also help you connect with the energy of Ancient Egypt!
Labradorite is revered for its powers of psychic development and increasing magickal energy. It is a stone to aid in any magick ritual and helps with transformation on all levels. Labradorite is great for increasing intuition and psychic development and can help provide clarity into one's own destiny.
The detail on these carvings is absolutely amazing, and the quality of Labradorite is extremely flashy and deep in color. We were blown away by the quality of these carvings when we found them at the Tucson Gem Show this year, so we purchased all of this size that the vendor had!
Each listing is for 1 Carved Labradorite Pharaoh statue, measuring approximately 2.5" in diameter by 1.5" tall, weighing 3 oz. We have several in stock, so understand you may not get one of the ones pictured above, but all the carvings are similar in size and coloring. the picture does show a back and a front of the carving.
Other items in the picture are for size reference only and are not included with the purchase.
Metaphysical properties of Inked Goddess Creations products are not guaranteed; I supply the tools, you supply the magick. Products should not be used in place of proper professional advice or treatment. If skin irritation occurs with body products, discontinue use immediately. Never leave a burning candle unattended. Internal use of herbs is not recommended, especially without having first consulted your doctor or a certified herbalist.