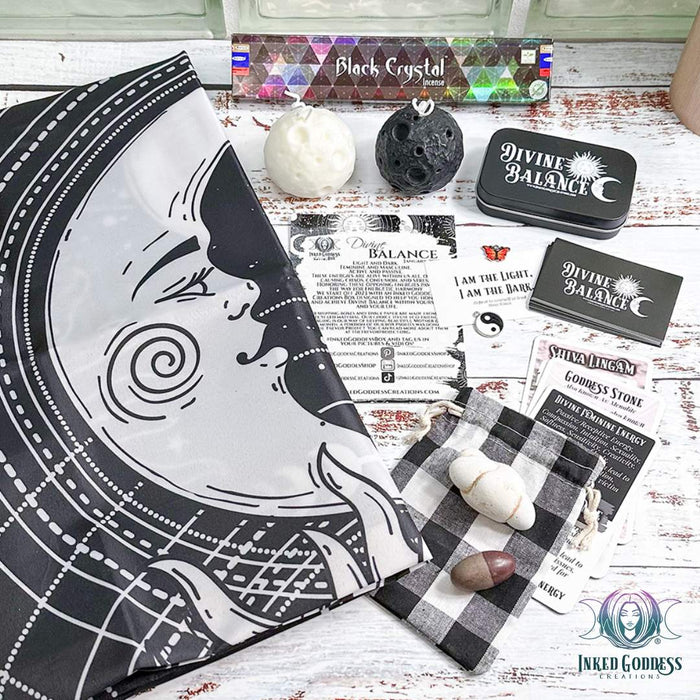 "Divine Balance"- January 2023 Inked Goddess Creations Box- One Time Purchase
**This is a ONE-TIME box purchase. This listing WILL NOT start an Inked Goddess Creations Box subscription for you. Please see links in the bottom of the listing for starting a new subscription, so you are guaranteed a box each month. We do not guarantee that there will be boxes left over each month. A monthly subscription is the ONLY way to ensure you receive an Inked Goddess Creations Box.
By purchasing this listing, you understand that this is for January's box, and that it will not be starting a recurring subscription.
January 2023's "Divine Balance" themed Inked Goddess Creations Box contains items to help you center and balance your energy.
This box contains:
Divine Balance Card Deck in Tin*
Moon Candles*
Sun and Moon Tapestry*
Divine Feminine and Masculine Stones Set
Black Crystal Incense
"Divine Balance" 

Eclectic Witch Card Deck Expansion Pack*
* Inked Goddess Creations® Exclusive Product
The Inked Goddess Creations® Box is a monthly box full of surprise magickal goodies, delivered directly to your door. Each month, you are guaranteed at least 3 full-sized products and multiple samples which all fit into the month's theme. Inked Goddess Creations Box® subscriptions come in a month-to-month subscription for $35 per month, a 3 month pre-pay subscription for $99, or a 6 month pre-pay subscription for $189. We recently added a one-time purchase option to send as a gift or to try a month with no commitment.
DIVINE BALANCE - JANUARY 2023
This box was top notch. LOVE the Divine feminine & Masculine Stone Set and the Moon Candles. Thank you.
Monthly box
I love everything about the box. They keep getting better. Love the fact that I also get a chance to purchase previous months if there are any left.
Amazing
I loved this box, it was full of beautiful items that I felt were picked for just where I am today! The items were thoughtfully put together and honestly I was amazed at the quality and quantity of the items, do to the low price. Feb box is already ordered!!!