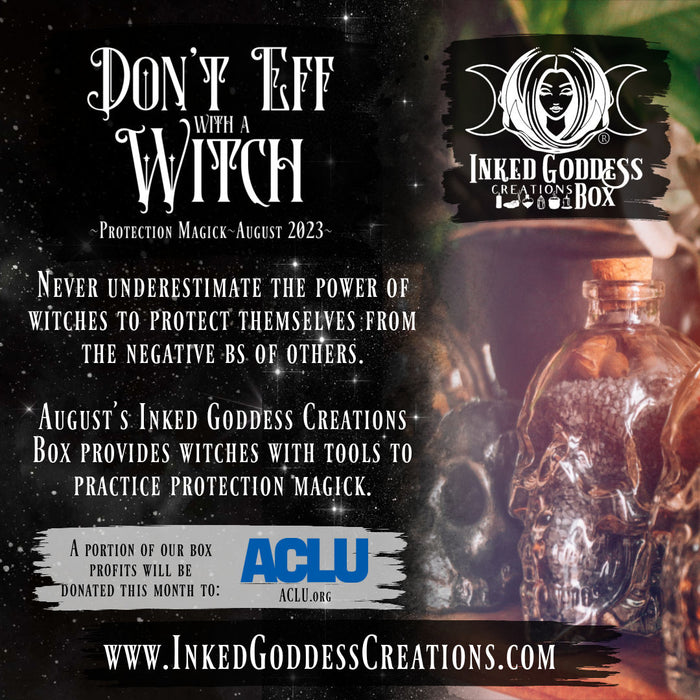 Don't Eff with a Witch- August 2023 Inked Goddess Creations Box- One Time Purchase
**This is a ONE-TIME box purchase. This listing WILL NOT start an Inked Goddess Creations Box subscription for you. Please see links in the bottom of the listing for starting a new subscription, so you are guaranteed a box each month. We do not guarantee that there will be boxes left over each month. A monthly subscription is the ONLY way to ensure you receive an Inked Goddess Creations Box.
By purchasing this listing, you understand that this is for August's box, and that it will not be starting a recurring subscription.
August 2023's "Don't Eff with a Witch" themed Inked Goddess Creations Box contains items to help you practice protection magick!
The Inked Goddess Creations® Box is a monthly box full of surprise magickal goodies, delivered directly to your door. Each month, you are guaranteed at least 3 full-sized products and multiple samples which all fit into the month's theme. Inked Goddess Creations Box® subscriptions come in a month-to-month subscription for $35 per month, a 3 month pre-pay subscription for $99, or a 6 month pre-pay subscription for $189. We recently added a one-time purchase option to send as a gift or to try a month with no commitment.
Love This Box
I love this box! Protection magic my favorite. You can never be too protected. The black skull protection oil is so cute. It's sitting on my altar right now. I love the package of protection herbs and skull spell jar. My absolute favorite item is the beautiful Blue Goldstone Key. It looks like a dark starry night. It's so beautiful it took my breath away. didn't know what type of stone it was so I I sent an email asking what the key was made of and they got back to me right away. I am so appreciative they took the time to reply to me so quickly. Thank you for everything! ✨💫✨
Amazing!
This box was absolutely amazing! The skull jar was the best! Protection herbs ready to use and the black tacks/nails were great and instructions made it so easy to put it all together as a spell jar!