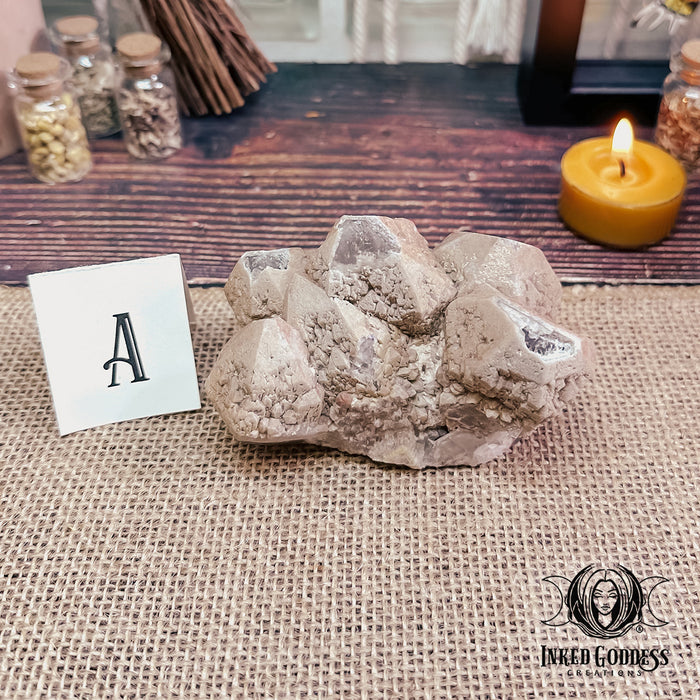 Dreamsicle Quartz Cluster for High Vibrational Energy
Aid your spiritual evolution and remove energetic blockages with a Dreamsicle Quartz Cluster from Inked Goddess Creations.
Dreamsicle Quartz is Quartz that is permanently covered in a thin layer of sand, giving it a dreamy quality. It is an extremely high vibrational stone, helping to balance energy in this life, as well as heal past-life wounds and reset karmic imbalances. It is a stone of transformation and up-leveling, as long as you are open to the changes headed your way. Many Dreamsicle Quartz points are also Lemurian, believed to hold the ancient power and knowledge of Lemuria within its ridges.
These raw formations are known as clusters, which are very powerful for projecting energy outwards from each point of the crystal into all directions. They make amazing centerpieces for your altar or sacred space.
These specimens were hand-chosen by Morgan, owner of Inked Goddess Creations, at this year's Tucson Gem Show, and come from Brazil.
Each order is for 1 Dreamsicle Quartz Cluster in your choice of style here:
A- measures 2.5" x 3" x 2", weighs 13 oz. 
B- measures 4.25" x 4.5" x 2.5",  weighs 1 lb. 2 oz. 
C- measures 5" x 3.5" x 2", weighs over 1 lb. 4 oz. 
D- measures 5" x 4" x 1.75", weighs 1 lb. 4 oz. 
E- measures 4" x 3" x 3", weighs 1 lb. 5 oz. 
F- measures 4" x 4" x 3", weighs 1 lb. 10 oz. 
Other items in the picture are for size reference only and are not included with the purchase.
Metaphysical properties of Inked Goddess Creations products are not guaranteed; I supply the tools, you supply the magick. Products should not be used in place of proper professional advice or treatment. If skin irritation occurs with body products, discontinue use immediately. Never leave a burning candle unattended. Internal use of herbs is not recommended, especially without having first consulted your doctor or a certified herbalist.