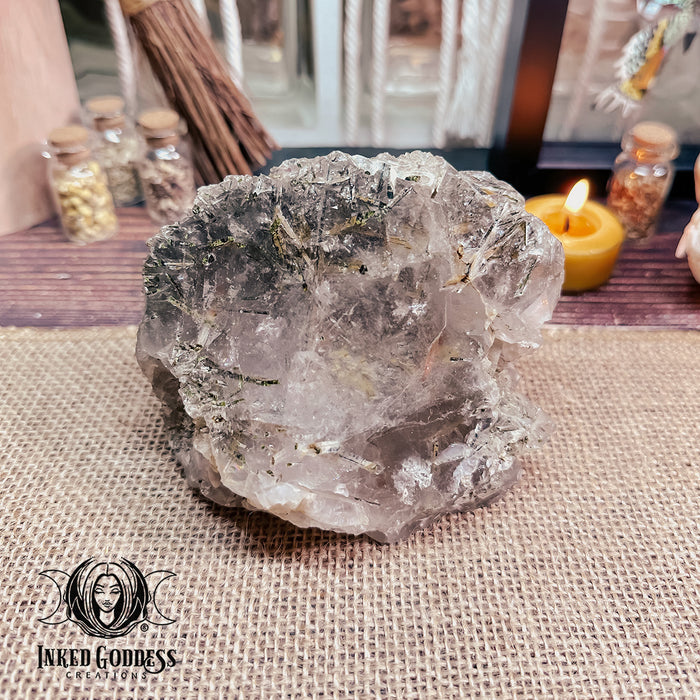 Epidote in Quartz Raw Gemstone for Optimism
Amplify your surrounding vibrations with positivity and move forward in your personal growth with an Epidote in Quartz from Inked Goddess Creations.
Epidote is a great stone for releasing negativity and raising your vibrational energy. When feeling stuck, epidote can bring a sense of hope and optimism. It's a great stone to use during meditation to face your inner struggles and resolve them. Epidote can clear energy blockages and exposes weaknesses so that they can be improved. Many healers use Epidote in their practice for its benefits in lifting depression and balancing the energy of the body.
Clear Quartz is known as the "master healer" and will amplify energy and thought, as well as the effect of other crystals. Clear Quartz draws off negative energy of all kinds. As it resonates with the Crown Chakra, it helps balance and revitalize the physical, mental, emotional, and spiritual bodies, acting as a deep soul cleanser and connecting the mind, body, and soul. Clear Quartz points also enhance psychic abilities while aiding concentration and unlocking memory.
This is a one-of-a-kind specimen! It measures 4" x 3.5" x 3" and weighs 1 lb. 11 oz.
Other items in the picture are for size reference only and are not included with the purchase.
Metaphysical properties of Inked Goddess Creations products are not guaranteed; I supply the tools, you supply the magick. Products should not be used in place of proper professional advice or treatment. If skin irritation occurs with body products, discontinue use immediately. Never leave a burning candle unattended. Internal use of herbs is not recommended, especially without having first consulted your doctor or a certified herbalist.