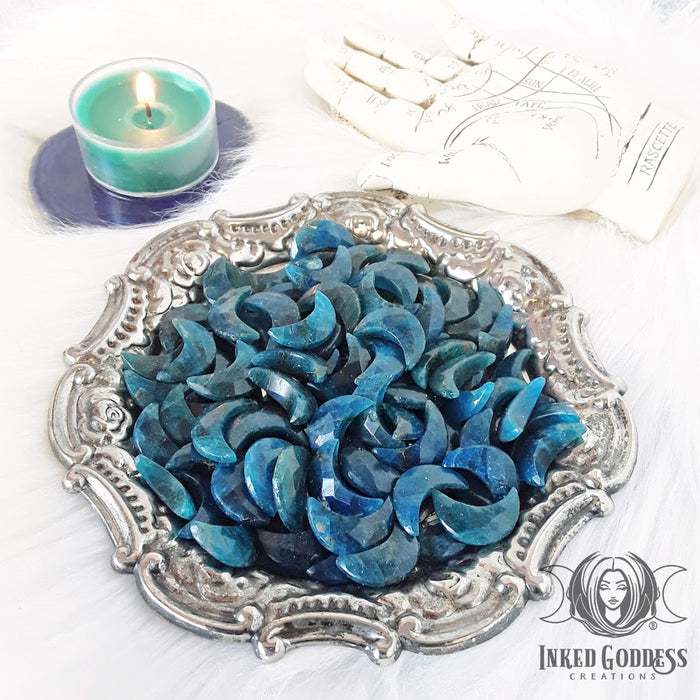 Faceted Gemstone Moons for Elevated Lunar Connection
Connect with elevated lunar energy with the help of a Faceted Gemstone Moon from Inked Goddess Creations.
These jewelry-grade gemstone moons were carved for Inked Goddess Creations and are faceted with many sides to reflect light and let the beauty of the gemstone shine through.
We have several gemstones to choose from, including:
Apatite enhances communication and connects the user to a very high level of spiritual guidance.
Labradorite is revered for its powers of psychic development and increasing magickal energy. It is a stone to aid in any magick ritual, and helps with transformation on all levels.
Larimar is a gorgeous stone embodying the energy of the sea and sky. It is associated with the water element and helps to cool hot tempers.
Onyx is a gemstone of strength and power. It helps increase self-confidence, helping one to be at ease during their workings.
Pink Opal offers loving and thoughtful energy, helping you to reach your full potential in all areas of life.
Rainbow Moonstone is a stone of soothing balance. It helps one remain calm when faced with emotional triggers and provides deep emotional healing when stressed.
Rutilated Quartz promotes connection to the divine and whole body cleansing.
Tourmalinated Quartz- The cleansing and amplification properties of Clear Quartz combined with the grounding and protective properties of Black Tourmaline make Tourmalinated Quartz a perfect stone for balance and harmony.
Each order is for 1 moon, approximately 1/2" in diameter. Please note the size before ordering- these are tiny, and the price reflects the fact that they are jewelry-grade faceted stones. Please allow for natural variances in gemstone coloring.
Other items in the picture are for size reference only and are not included with the purchase.
Metaphysical properties of Inked Goddess Creations products are not guaranteed; I supply the tools, you supply the magick. Products should not be used in place of proper professional advice or treatment. If skin irritation occurs with body products, discontinue use immediately. Never leave a burning candle unattended. Internal use of herbs is not recommended, especially without having first consulted your doctor or a certified herbalist.
Great!
These are great for making jewelry and sooo pretty!
Rainbow Moonstone - Faceted Gemstone Moon 🌜
Beautiful piece of Rainbow Moonstone. :D Hopefully, I can charge this under the next full moon. 🌕 I'll be adding this to my Egyptian goddess Nut altar. Can't wait to buy the other varieties of these faceted gemstone moons. :) 🌙
Amazing!
Super cute and another labradorite specimen!