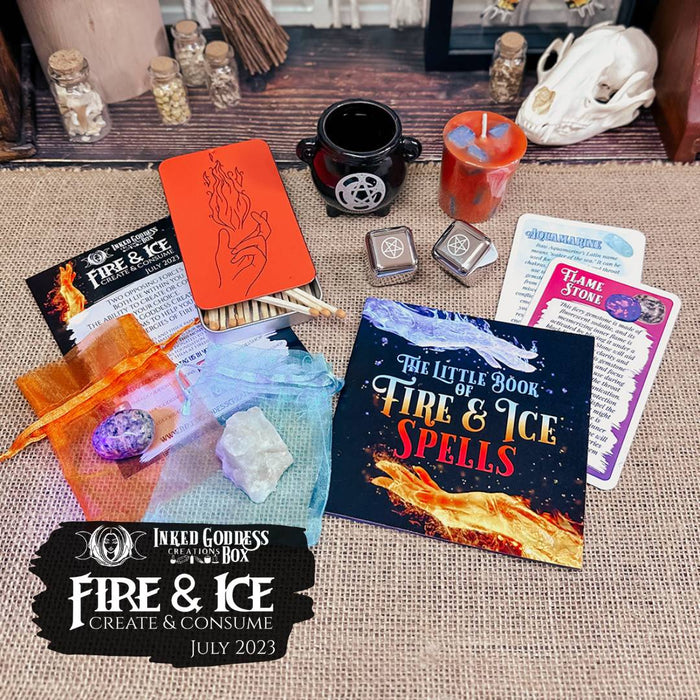 Fire & Ice- July 2023-Inked Goddess Creations Box- One Time Purchase
**This is a ONE-TIME box purchase. This listing WILL NOT start an Inked Goddess Creations Box subscription for you. Please see links in the bottom of the listing for starting a new subscription, so you are guaranteed a box each month. We do not guarantee that there will be boxes left over each month. A monthly subscription is the ONLY way to ensure you receive an Inked Goddess Creations Box.
By purchasing this listing, you understand that this is for July's box, and that it will not be starting a recurring subscription.
July 2023's "Fire & Ice" themed Inked Goddess Creations Box contains items to help you work with the transformational energies that fire and ice contain.
The Inked Goddess Creations® Box is a monthly box full of surprise magickal goodies, delivered directly to your door. Each month, you are guaranteed at least 3 full-sized products and multiple samples which all fit into the month's theme. Inked Goddess Creations Box® subscriptions come in a month-to-month subscription for $35 per month, a 3 month pre-pay subscription for $99, or a 6 month pre-pay subscription for $189. We recently added a one-time purchase option to send as a gift or to try a month with no commitment.
Amazing
This is, do far at least, my favorite box. I will absolutely be using every single item in this box, and soon! I was pleasantly surprised by the mini cauldron, the matches in the metal tin with cool design and the pentacle metal ice cubes. My husband is definitely not into these things, but even he was fascinated by the flame stone after using the black light. I appreciate the cards you include for further information.
Another great box
I'll be honest. I really wanted this box for the stainless ice cubes. However, I ended up loving so much more. The candle smells amazing. I love the raw aquamarine which happens to be my birthstone. And, the Mini cauldron is freaking adorable!
Looking forward to adding magic to my drinks
After seeing this on other's unboxing videos, I had to have it. I love the reusable ice cubes. It will be fun to add some good energy to my drinks. I love the little cauldron and the gems. The matches are going to be great for glass candles. I always have a problem lighting them when they have burned down to more than midway