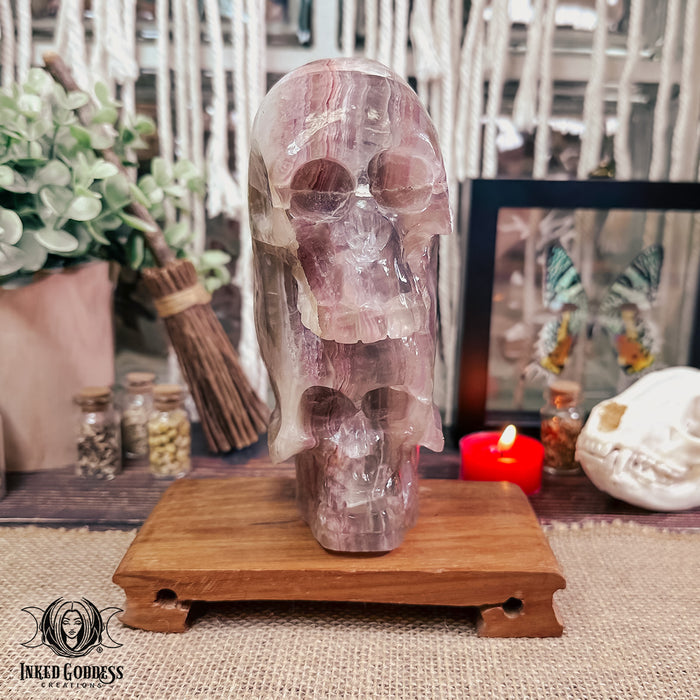 Fluorite Skull Stack Carving for Focus & Manifestation
Add balance and focused energy to your life with this Fluorite Skull Stack Carving from Inked Goddess Creations.
Fluorite cleanses and stabilizes the aura. It absorbs and neutralizes negative energy and stress. Fluorite increases our powers of concentration and self-confidence while helping us in decision-making. It encourages a positive attitude and balances one's energies. These are a blend of green and purple fluorite, which have their own special qualities. Green Fluorite resonates with the Heart Chakra and harmonizes and recharges all chakras while balancing hormones. Purple Fluorite resonates with the Third Eye Chakra and increases mystic visions and aids spiritual balance. It helps you connect your intuition to your rational mind.
Ancient cultures, such as the Egyptians and the Mayans, have used crystal skulls and skull carvings for thousands of years for healing, guidance, divination, and meditation. These cultures realized that carving gemstones with certain properties into the shapes of a human skull not only increased those natural properties but also increased the crystal's power to affect the human mind, body, and spirituality.
Skull carvings are great for distance healing because they can be programmed for a certain person and then the energy of that crystal is directed toward them. They can also be held during meditation to help one achieve a deeper spiritual state. The power of intention is also amplified by skulls, making them amazing tools for rituals or spell work to help focus your thoughts and manifest action. Skull carvings are most effective when you use a gemstone that naturally has the properties of the intentions you are hoping to achieve.
This unique carving has 4 skull faces on it; two in the front and two in the back. It is truly a one-of-a-kind piece for your gemstone collection!
This purchase is for 1 Fluorite Carved Skull Stack, measuring 6" x 5.5" x 2.5" and weighing almost 5 pounds!
Other items in the picture are for size reference only and are not included with the purchase.
Metaphysical properties of Inked Goddess Creations products are not guaranteed; I supply the tools, you supply the magick. Products should not be used in place of proper professional advice or treatment. If skin irritation occurs with body products, discontinue use immediately. Never leave a burning candle unattended. Internal use of herbs is not recommended, especially without having first consulted your doctor or a certified herbalist.