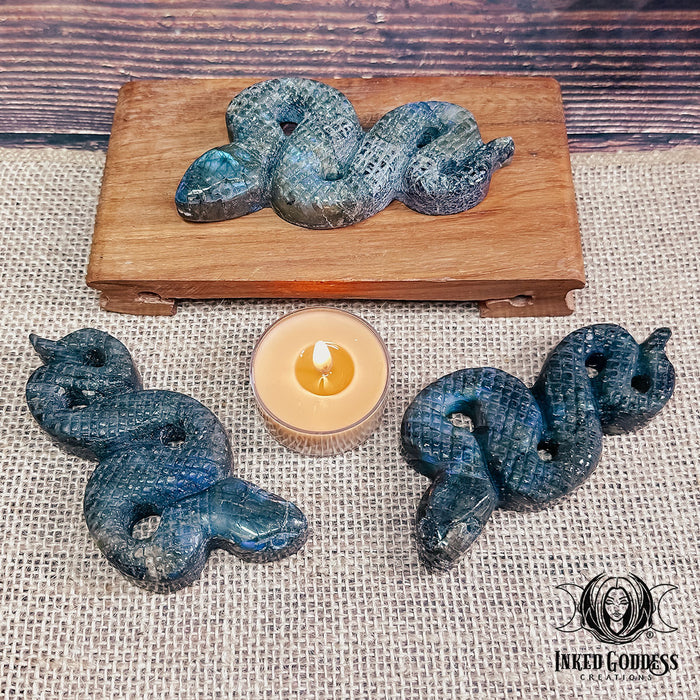 Gemstone Carved Snake for Transformation
Transform and be reborn with the help of a Carved Snake from Inked Goddess Creations.
Snakes are the ultimate symbol of transformation and rebirth. Just as a snake is able to shed its skin and begin anew, so can you. Snakes represent healing from trauma and can help you release fear, emotions, and blockages that are holding you back from moving forward in your life. Snakes also represent the magickal and mystical, so having a snake on your altar can amplify power, as it helps open your Root Chakra to ground your energy so you can reach new heights as you build magickal energy for spells or rituals. Snakes also increase sexuality and passion in your life to help you explore and expand the limitations you have placed on yourself in that area.
We have these snake carvings in the following gemstones (please see drop-down menu for current quantities):
Labradorite is revered for its powers of psychic development and increasing magickal energy. It is a stone to aid in any magick ritual and helps with transformation on all levels. Labradorite is great for increasing intuition and psychic development and can help provide clarity into one's own destiny.
Pastel Fluorite is absolutely incredible. Its soft hues radiate such soothing and peaceful vibes. Known as the "Genius Stone", Fluorite symbolizes the highest level of mental success, increasing intelligence and understanding, optimizing learning, and aiding one in resolving complicated matters.
Moss Agate is a stone of new beginnings. It refreshes the soul and inspires creativity and new ideas. It attracts abundance and wealth while promoting self-expression, self-esteem, and communication. It balances emotions by releasing fear and stress. It is a great stone to connect you to Mother Earth and even helps with gardening and practicing green witchcraft.
Gold Sheen Obsidian (also called Golden Sheen Obsidian) forms from volcanic lava and is considered glass. It is a very powerful crystal that absorbs negativity, grounds you, and gives protection. Gold sheen obsidian eliminates any ego conflict and balances energy fields. Obsidian itself increases self-control while releasing imbalances and negative energies. It resonates with the Root Chakra, making it an extremely grounding stone.
Leopard Skin Jasper, sometimes called the Jaguar Stone, is a stone of great power that encourages strength and vitality during uncertainty. It's extremely protective and offers guidance when astral traveling. Leopard Skin Jasper reminds us that no matter our differences, we are still all one in this realm and the next.
This listing is for 1 Carved Snake, in your choice of gemstone. Each carving measures approximately 4" x 2".
Other items in the picture are for size reference only and are not included with the purchase.
Metaphysical properties of Inked Goddess Creations products are not guaranteed; I supply the tools, you supply the magick. Products should not be used in place of proper professional advice or treatment. If skin irritation occurs with body products, discontinue use immediately. Never leave a burning candle unattended. Internal use of herbs is not recommended, especially without having first consulted your doctor or a certified herbalist.