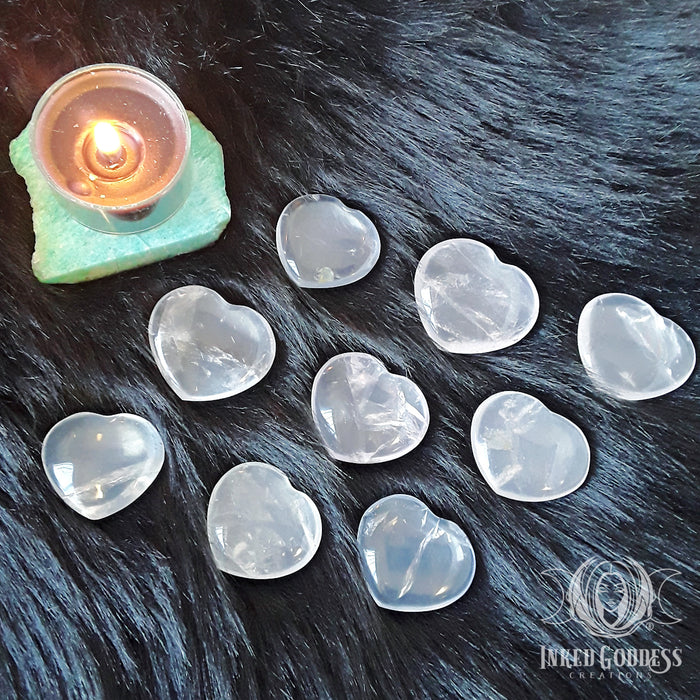 Girasol (Moon Quartz) Hearts for Calming Energy
Calm your mind and encourage gentle healing with a Girasol Heart from Inked Goddess Creations.
Girasol, also known as Moon Quartz, is a healing stone that improves concentration by encouraging calming energies while balancing rocky energies. It can help move you forward out of difficult situations while bringing your heart to a kind place. Girasol Hearts are a great addition to any sacred space by promoting a peaceful connection between your Heart Chakra and Crown Chakra. Girasol also resonates with the moon, helping you connect to divine feminine energy.
A Gemstone Heart from Inked Goddess Creations is a great way to harness the metaphysical benefits of gemstones in a smooth, cute, easy-to-carry heart shape. These are perfect for your wire-wrapping projects, to add to mojo bags, to carry around with you, or to place on your altar or in your sacred space.
The heart is the ultimate symbol of love, bringing more positive, loving energy into your life.
Each purchase is for 1 Girasol Heart, at least 1" in size. I have several in stock, so understand you may not get one of the ones pictured above, but all the stones are similar in size and coloring.
Other items in the picture are for size reference only and are not included with the purchase.
Metaphysical properties of Inked Goddess Creations products are not guaranteed; I supply the tools, you supply the magick. Products should not be used in place of proper professional advice or treatment. If skin irritation occurs with body products, discontinue use immediately. Never leave a burning candle unattended. Internal use of herbs is not recommended, especially without having first consulted your doctor or a certified herbalist.
Girasol heart
This stone is new to me and i'm looking forward to working with it. I like that it is also known as "Moon Quartz".