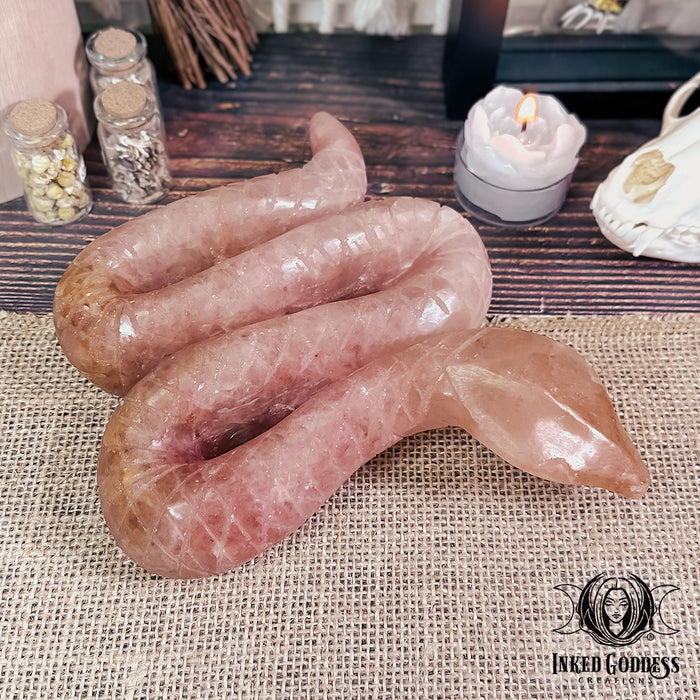 Golden Quartz Carved Snake for Spiritual Transformation
Transform and strengthen your spiritual communications with the help of a Golden Quartz Carved Snake from Inked Goddess Creations.
Snakes are the ultimate symbol of transformation and rebirth. Just as a snake is able to shed its skin and begin anew, so can you. Snakes represent healing from trauma and can help you release fear, emotions, and blockages that are holding you back from moving forward in your life. Snakes also represent the magickal and mystical, so having a snake on your altar can amplify power, as it helps open your Root Chakra to ground your energy so you can reach new heights as you build magickal energy for spells or rituals. Snakes also increase sexuality and passion in your life to help you explore and expand the limitations you have placed on yourself in that area.
Golden Quartz is a healing and communication stone, especially when one needs to communicate across distance, time, or space.  It is a stone that balances the chakras, and is an excellent source of psychic healing. Golden Quartz increases and enhances meditation and spiritual communication.

This large gemstone carved snake makes a beautiful focal piece for your altar or sacred space!
This listing is for 1 Golden Quartz Snake, measuring 7" x 5.5" x 1" and weighing over 2 lbs. This is a one-of-a-kind piece, and you will get the exact one pictured here.
Other items in the picture are for size reference only and are not included with the purchase.
Metaphysical properties of Inked Goddess Creations products are not guaranteed; I supply the tools, you supply the magick. Products should not be used in place of proper professional advice or treatment. If skin irritation occurs with body products, discontinue use immediately. Never leave a burning candle unattended. Internal use of herbs is not recommended, especially without having first consulted your doctor or a certified herbalist.
Absolutely gorgeous
It is even more beautiful in person! I am in love with it. It has such lovely energy too.