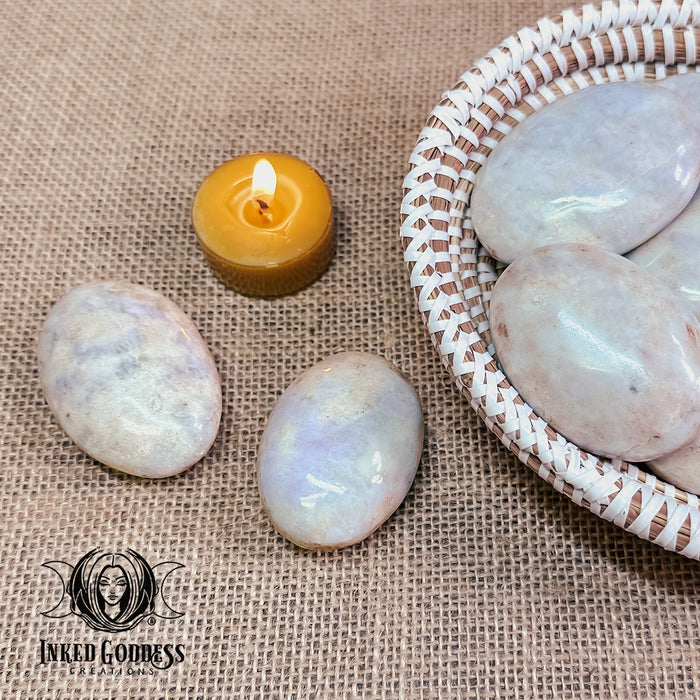 Hackmanite Gallet for Divine Messages
Enhance your spiritual journey with a Hackmanite Gallet from Inked Goddess Creations.
A Hackmanite Gallet invites you to take a journey of spiritual evolution, drawing upon the divine energy to communicate messages, reveal your true self, and practice your dream magick like never before. Let this extraordinary gemstone show you the way!
Hackmanite is a rare form of Sodalite that glows under UV light. It is an extremely high vibrational stone that helps with opening your Crown Chakra so you can receive divine messages. Hackmanite is a stone of spiritual growth, communication, and evolution, helping you unlock your own gifts along your journey. This stone helps you decipher symbols in dreams and those sent to you from your divine energy source. It also helps you release fears, connections, and trauma holding you back from becoming your true spiritual self.
Be sure to keep your Hackmanite out of direct sunlight and heat, as this could fade the gorgeous purple color. Keeping it in a stable environment will help keep its color bright and vibrant.
The order is for 1 Hackmanite Gallet measuring 2" x 1.5".  We have several in stock so one will be intuitively chosen for you upon ordering.
Other items in the picture are for size reference only and are not included with the purchase.
Metaphysical properties of Inked Goddess Creations products are not guaranteed; I supply the tools, you supply the magick. Products should not be used in place of proper professional advice or treatment. If skin irritation occurs with body products, discontinue use immediately. Never leave a burning candle unattended. Internal use of herbs is not recommended, especially without having first consulted your doctor or a certified herbalist.