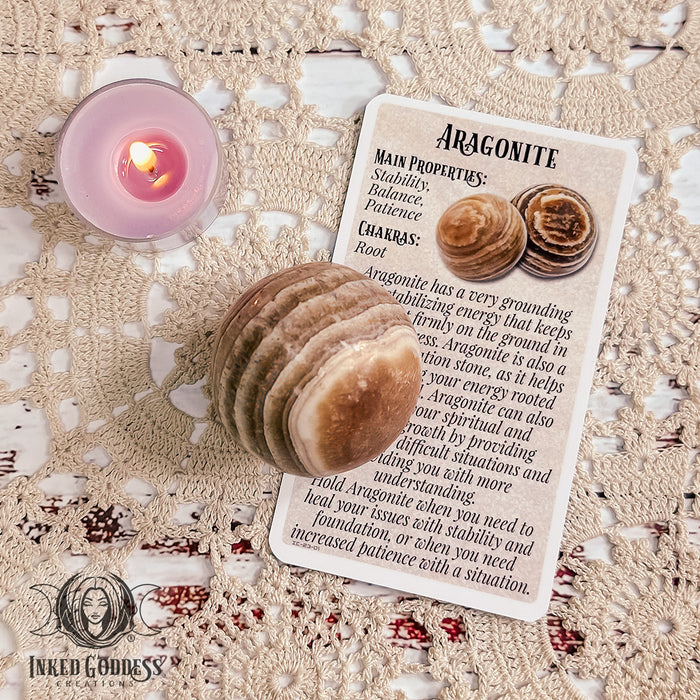 Inked Crystals Past Boxes- One-Time Purchase Box
Add to your gemstone collection with Inked Crystals Past Boxes, exclusive to Inked Goddess Creations.
This listing is for PAST BOXES of available specimens from Inked Crystals. THIS WILL NOT START A MONTHLY SUBSCRIPTION. Some months, we have a few specimens left over, so we are making those available to customers who did not get that month's Inked Crystals box! PLEASE BE MINDFUL OF WHICH BOX YOU ARE CHOOSING FROM THE DROPDOWN MENU. These boxes do NOT come with free shipping, as current subscribers only have the benefit of free shipping!
The Inked Crystals Box provides you with 1 unique gemstone specimen acquired from the Tucson Gem Show, 1 corresponding book of shadows page, and 1 Eclectic Witch Card.
Accompanying each gemstone specimen is a beautiful book of shadows page with information about your crystal. These pages include a picture of the gemstone, as well as metaphysical properties, correspondences, uses, and more!
New for 2022, Inked Crystals now also includes an Eclectic Witch Card about the gemstone. You can add this card to your Eclectic Witch Card Deck, or include it in your grimoire or journal so you can record how you worked with this gemstone and how it resonates with your energy.
Please see the dropdown menu for current selections, as not every past box will be available. Please note the picture for size reference of the gemstones!
PLEASE READ: The box pictured is the new shipping box for Inked Crystals, and all contents will be inside of this box. The book of shadows page is rolled inside of the box. When you receive your box, it is best to unroll the page and put it under some books to flatten it.
The Inked Goddess Creations® Box is a monthly box full of surprise magickal goodies, delivered directly to your door. Each month, you are guaranteed at least 3 full-sized products and multiple samples which all fit into the month's theme. Inked Goddess Creations Box® subscriptions come in a month-to-month subscription for $35 per month, a 3 month pre-pay subscription for $99, or a 6 month pre-pay subscription for $189. We recently added a one-time purchase option to send as a gift or to try a month with no commitment.
yellow hematoid quartz, big crystal
Wow. I love this crystal. It has such a friendly, nurturing vibe to it. The size is pretty hefty too, yay!! Thank you IGC :)
Beautiful specimen of Indian turquoise! Love the information poster and card as well! Might consider subscribing.
Lovely and so worth it!
This was my first crystal box and I'm so excited! Finally a crystal subscription that sends you crystals of a decent size and amazing quality! So many others advertise a picture shows a beautiful piece with all kinds of sparkle and what you get a a dull oddly cut fragment of a crystal.. not the case with Inked Goddess! So very pleased!