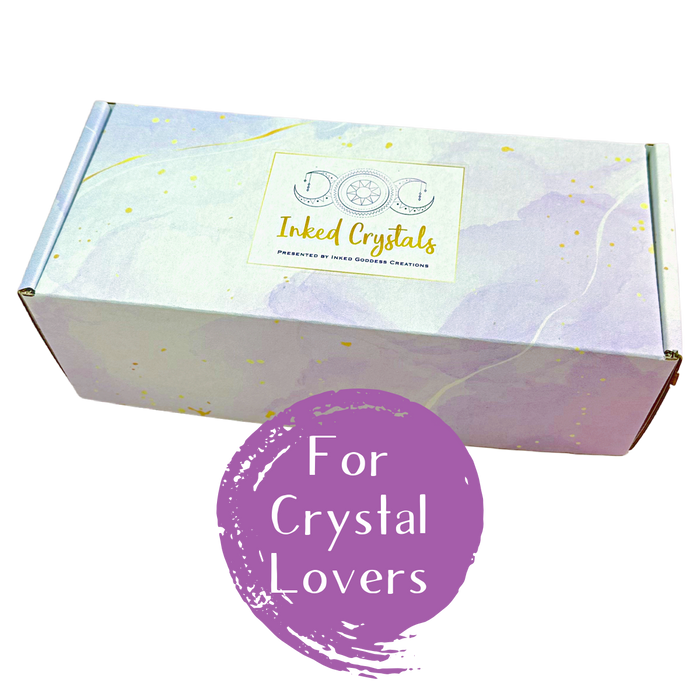 Inked Crystals Subscription Box- Crystal of the Month
Save

Liquid error (snippets/product-badge line 32): Computation results in '-Infinity'

%
Add a unique gemstone specimen to your collection each month with the Inked Crystals Subscription Box from Inked Goddess Creations.
Easily explore gemstones from all over the world from the comfort of your own home with the Inked Crystals subscription, presented by Inked Goddess Creations. Each month, the Inked Crystals Box provides you with 1 unique gemstone specimen acquired from the Tucson Gem Show, 1 corresponding book of shadows page, and 1 Eclectic Witch Card. Specimens will be a surprise each month and were hand-selected from vendors all over the world for their metaphysical properties, beauty, and rarity. There will be a mixture of freeform specimens and carved gemstones from month to month, so this subscription adds variety, intrigue, and functionality to your personal gemstone collection.
Accompanying each gemstone specimen is a beautiful book of shadows page with information about your crystal. These pages include a picture of the gemstone, as well as metaphysical properties, correspondences, uses, and more!
New for 2022, Inked Crystals now also includes an Eclectic Witch Card about the gemstone. You can add this card to your Eclectic Witch Card Deck, or include it in your grimoire or journal so you can record how you worked with this gemstone and how it resonates with your energy.
Inked Crystals subscription is a monthly subscription that automatically renews each month on the 10th of the month. The cutoff for that month's subscription is the 10th of each month. Packages will ship as close to the 15th of the month as possible. We will not be doing multiple-month subscriptions with Inked Crystals, and at this time, Inked Crystals is not open for international sales due to the way our subscription program is set up. The subscription is $24 per month with free shipping!
PLEASE READ: The box pictured is the new shipping box for Inked Crystals, and all contents will be inside of this box. The book of shadows page is rolled inside of the box. When you receive your box, it is best to unroll the page and put it under some books to flatten it.
We have a very limited amount of these subscriptions each month. If your card declines on the 10th, you will have until the 12th to fix the decline error. If the error is not fixed, we will cancel your subscription and open your spot to the waitlist, if we have one for that month. We can change the date you renew to a date before the 10th, but no new orders will be accepted from the 10th of the month through the 15th of the month while we organize subscriptions and offer declined spots to our waitlist. Ordering will be opened again around the 16th of each month for the next month's shipment.
If you have any questions, please send us an email BEFORE ordering.
The Inked Goddess Creations® Box is a monthly box full of surprise magickal goodies, delivered directly to your door. Each month, you are guaranteed at least 3 full-sized products and multiple samples which all fit into the month's theme. Inked Goddess Creations Box® subscriptions come in a month-to-month subscription for $35 per month, a 3 month pre-pay subscription for $99, or a 6 month pre-pay subscription for $189. We recently added a one-time purchase option to send as a gift or to try a month with no commitment.
Beautiful color
I was very happy with the crystal I received. It was a tangerine quartz and is a beautiful color of orange. The scroll with the information was a lovely addition.
Full of Energy
I really loved this month's crystal. It was generously sized and just felt so fun holding in my hand. This is going to be one of my favorites - I can already tell. The orange is so bold, and I love the visual appeal of this one. (picture doesn't do it justice - its gorgeous in the sun)
I should have joined sooner
I hadn't subscribed to this box until this last box and omg perfection
Love the surprise each month
I love these crystal boxes! Each month is a new surprise!! It always seems to be something I've never heard of before as well. Always exciting!