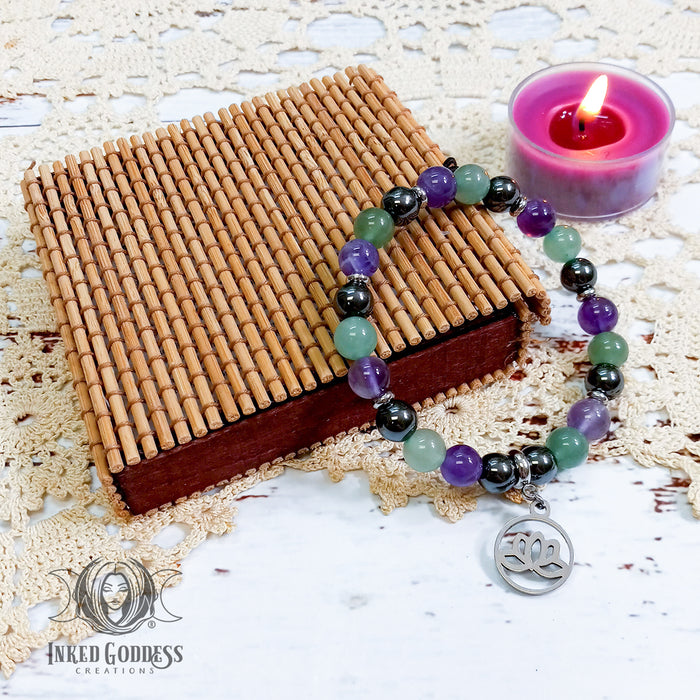 Lotus Meditation Gemstone Bracelet for Renewal
Enhance your power of meditation with this stunning Lotus Meditation Gemstone Bracelet from Inked Goddess Creations.
Made from beautiful Amethyst, Hematite, and Aventurine, this bracelet packs a powerful metaphysical punch. Amethyst is an amazing stone for healing, both physical and metaphysical. Hematite enhances focus, protects from and neutralizes negative energies, and brings about a balance of body, mind, and spirit. Aventurine fosters strength, confidence, and encouragement to try new things and open up to new possibilities. The lotus amulet represents rebirth, strength, purity, resilience, and rising above and regardless of adversity or adverse situations. The combination of these stones and talisman make it the perfect divination tool to enhance your meditative experience.
This bracelet was designed by Morgan, owner of Inked Goddess Creations, to unite your Root Chakra, Heart Chakra, and Crown Chakras to facilitate an open flow of positive energy and divine love. With this open connection, healing and renewal can occur on a soul-level. This bracelet can also help you ground your roots deeply into the earth so that you can expand upwards with your consciousness to reach new heights.
This bracelet is made with stretchy cord, making it adaptable to just about any wrist. Each order is for 1 bracelet.
Other items in the picture are for size reference only and are not included with the purchase.
Metaphysical properties of Inked Goddess Creations products are not guaranteed; I supply the tools, you supply the magick. Products should not be used in place of proper professional advice or treatment. If skin irritation occurs with body products, discontinue use immediately. Never leave a burning candle unattended. Internal use of herbs is not recommended, especially without having first consulted your doctor or a certified herbalist.