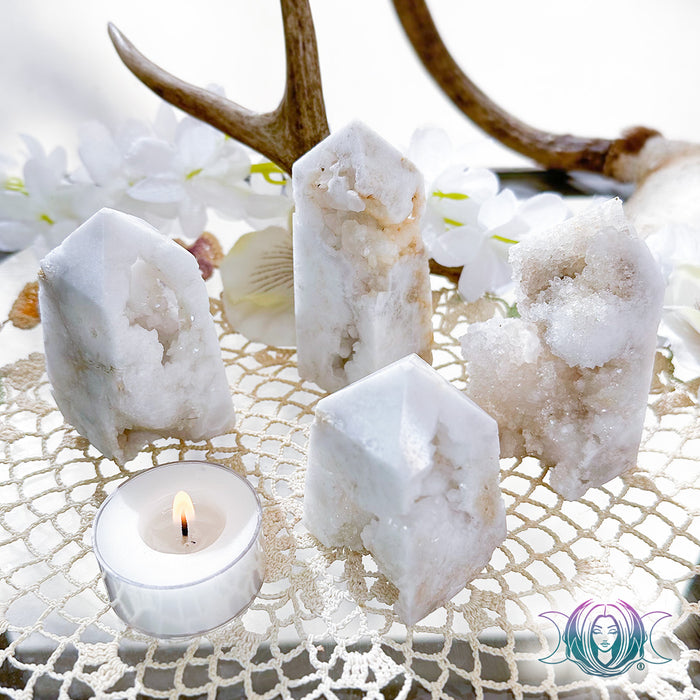 "Melting Snow" White Agate Druzy Tower for Reawakening
Reawaken after the winter with a "Melting Snow" Agate Druzy Tower from Inked Goddess Creations.
We affectionately called these towers "Melting Snow" towers in-house, as they reminded us of the way a snowman or other snow creations look when they begin melting. That's when we knew they'd be perfect for the Imbolc transition of the year, to help you move from the winter to the spring.
White Agate is believed to balance and peacefully harmonize the feminine and masculine aspects of oneself. It is a healing stone, aiding the holder in releasing trauma and recovering trust in others. White agate is a very spiritual stone, as it helps you ground your energy downward so that you can reach upward to form a strong connection with your higher self, your divine energy source, or your guides.
A Druzy Tower is known to have very strong energetic qualities. It is believed to be able to help one see the whole picture of a given situation, and shed light on new perspectives.
A gemstone tower is shaped with a point on one end and the opposite end flat, which directs energy down from the heavens and outward, filling your sacred space with positive energy. Generators can also amplify the energy of other gemstones around them.
The order is for one White Agate Druzy tower, measuring at least 2.75" x 1.5".
Other items in the picture are for size reference only and are not included with the purchase.
Metaphysical properties of Inked Goddess Creations products are not guaranteed; I supply the tools, you supply the magick. Products should not be used in place of proper professional advice or treatment. If skin irritation occurs with body products, discontinue use immediately. Never leave a burning candle unattended. Internal use of herbs is not recommended, especially without having first consulted your doctor or a certified herbalist.