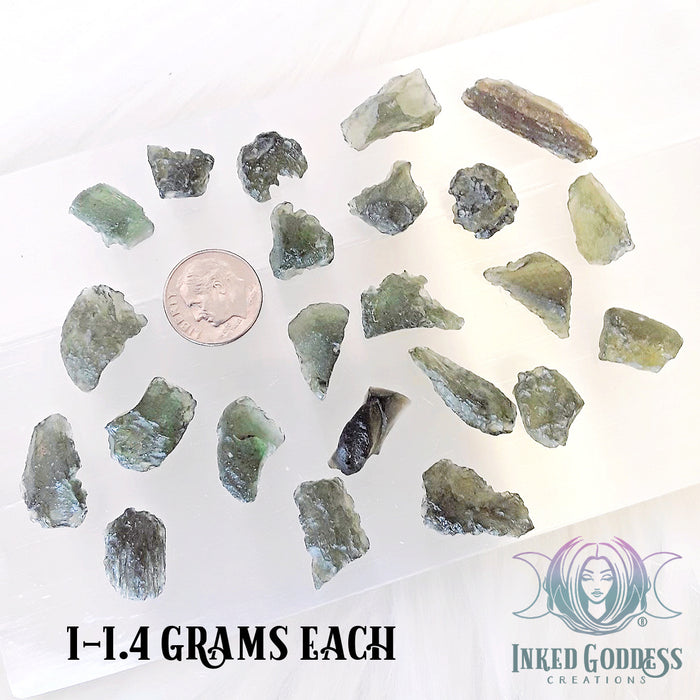 Moldavite Raw Pieces for Transformation
Open yourself to the power of transformation with the help of a Moldavite Raw Piece from Inked Goddess Creations.
Moldavite is a green tektite found in the Czech Republic, formed when a meteorite hit Earth 14 million years ago. It is often referred to as 'The Stone of Transformation' due to its ability to accelerate spiritual and emotional growth. When wearing Moldavite, one may experience an increase in epiphanies as it helps to bring alignment to spiritual paths. Moldavite clears away blockages and activates all chakras, especially the Crown Chakra. Keeping a piece of moldavite near you will help ward off negative influences, keeping your energy uplifted and lively. On a lighthearted side, it is believed that Moldavite holds the power of communication with beings from outside of our world.
These raw pieces are perfect to hold in your hand while meditating, place on your third eye area to increase psychic abilities, or wire wrap yourself to make a beautiful piece of jewelry. They measure between 1 gram and 1.4 grams each.
Each listing here is for one raw Moldavite piece, in your choice of size. Please note the size before ordering, and note that all weights are in grams. We used a dime to show size reference, as some of these pieces are very small. Returns, refunds, and negative emails about the size of the specimens vs. price will not be processed. Moldavite is a rare stone formed millions of years ago, only found in one place in the world, with strong metaphysical properties, and the price anywhere will reflect this. Due to the TikTok craze, as well as closing mines in the Czech Republic, prices of Moldavite have been driven up for suppliers everywhere. If you do not understand this, do not purchase Moldavite. We will intuitively choose one in your choice of size for you at the time of your purchase, but they are all similar to those pictured here.
Other items in the picture are for size reference only and are not included with the purchase.
Metaphysical properties of Inked Goddess Creations products are not guaranteed; I supply the tools, you supply the magick. Products should not be used in place of proper professional advice or treatment. If skin irritation occurs with body products, discontinue use immediately. Never leave a burning candle unattended. Internal use of herbs is not recommended, especially without having first consulted your doctor or a certified herbalist.
Love it.
This is a beautiful piece of maldivite - high quality and amazing color. If you're looking for a piece to add to your selection of crystals and stones, I highly recommend buying it from Inked Goddess Creations. Quality through and through.
Raw Moldavite (1 - 1.4 grams) 🌠
This is a really good size piece of Moldavite for an affordable price. I dig the display box that came with it. I really like the energetic quality of my piece.
Love the products
I ordered a necklace and a piece of moldavite they are both amazing quality love them soo much the energy from those crystals is the best i'm also from canada and it didn't take too long to get here😁❤️
Moldavite
Love the piece I got. It's amazing to look at and know that it came from outer space. I love the uniqueness of this stone. I am glad I purchased the Moldavite, who knows if their will be any left in time of this piece.