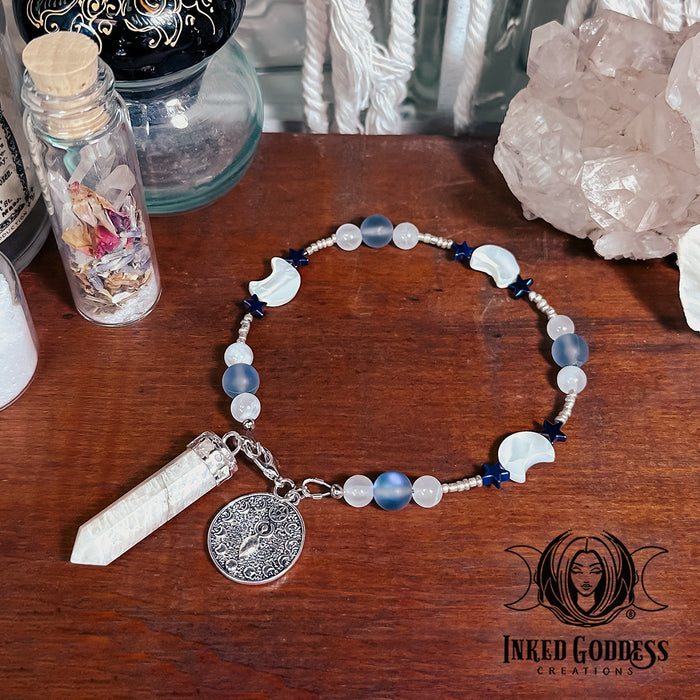 Moon Goddess Pendulum Bracelet- Handmade by Morgan, One-of-a-Kind
Honor the Divine Feminine energy of night with a Moon Goddess Pendulum Bracelet, exclusive to Inked Goddess Creations.
Be mysterious and in tune with the night sky with this one-of-a-kind Moon Goddess Pendulum Bracelet! Shine bright, and embrace your inner lunar goddess!
This Moon Goddess Pendulum Bracelet was created with Mystic Aura Quartz, Selenite, Mother of Pearl Moon, and Titanium Hematite Star gemstone beads, which all resonate with lunar energy. The Mystic Aura Quartz (also known as Mermaid Stone- these are synthetic) beads' coloring reminds us of the Northern Lights in the night sky, helping to add an aura of mystery and magick around you. Selenite resonates with the Third Eye and Crown chakras, helping connect you with a higher spiritual source. The Mother of Pearl moons help you tap into divine feminine energy. The Titanium Hematite Star beads help keep you grounded while you use this pendulum to unlock the mysteries of the night. The Moonstone point helps you connect to the moon's powerful energy while helping to open your intuition. The Moon Phase Goddess charm helps you further connect with the night and the powerful energy of the Moon Goddess.
This is a pendulum bracelet, measuring approximately 9" in diameter, making it great for larger wrists. It was handmade by Morgan, owner of Inked Goddess Creations.
To use this as a pendulum, simply unclasp it, straighten it out, hold the pendulum by the charm at the top, and let the gemstone point hang downward. This can also be worn as a bracelet to help infuse your own energy into it on a daily basis.
Other items in the picture are for size reference only and are not included with the purchase.
Metaphysical properties of Inked Goddess Creations products are not guaranteed; I supply the tools, you supply the magick. Products should not be used in place of proper professional advice or treatment. If skin irritation occurs with body products, discontinue use immediately. Never leave a burning candle unattended. Internal use of herbs is not recommended, especially without having first consulted your doctor or a certified herbalist.