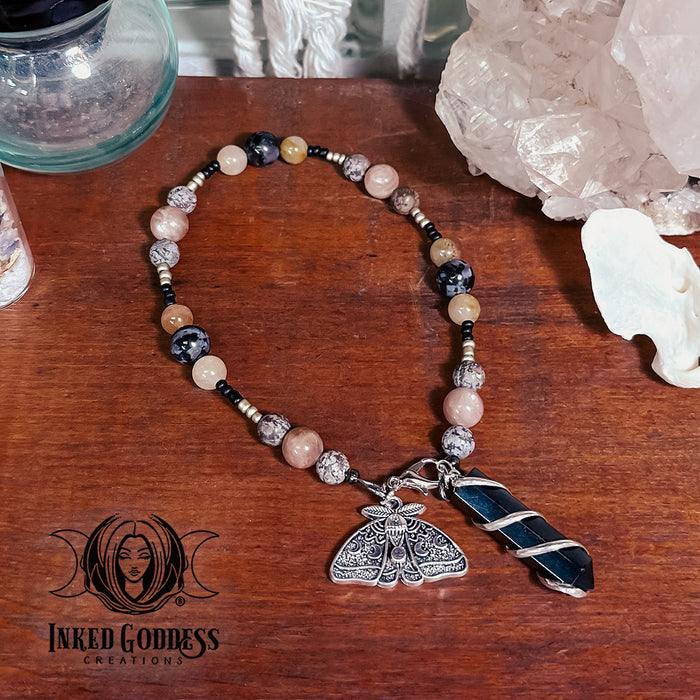 Moonlit Transformation Pendulum Bracelet- Handmade by Morgan, One-of-a-Kind
Embrace the transformational energy of night with a Moonlit Transformation Pendulum Bracelet, exclusive to Inked Goddess Creations.
Transform yourself with the Moonlit Transformation Pendulum Bracelet. Handcrafted by Morgan, this one-of-a-kind piece harnesses the lunar energy and mystery of the moth to give you the strength and courage to take risks and reach for the stars. Be bold and brave — let the power of transformation take flight!
This Moonlit Transformation Pendulum Bracelet was created with Peach Moonstone, Brown Snowflake Obsidian, Indigo Gabbro, and Phantom Quartz gemstone beads to help you embrace the transformational energy of night. Peach Moonstone makes space for inward thinking, making it a great gemstone to use in a meditation practice. Brown Snowflake Obsidian helps bring shadows into the light so that one can properly deal with them to achieve balance. Indigo Gabbro is a stone of duality, grounding the user, but also amplifying higher vibrational energies, making it easier for one to contact their higher self, spirit guides, and more. Phantom Quartz is an amazing gemstone for spiritual growth and transformation, helping you to heal from past traumas. The Obsidian point is protective and provides support during change. The Moon Phase Moth charm helps you further connect with the night and the powerful energy of the transformation.
This is a pendulum bracelet, measuring approximately 9" in diameter, making it great for larger wrists. It was handmade by Morgan, owner of Inked Goddess Creations.
To use this as a pendulum, simply unclasp it, straighten it out, hold the pendulum by the charm at the top, and let the gemstone point hang downward. This can also be worn as a bracelet to help infuse your own energy into it on a daily basis.
Other items in the picture are for size reference only and are not included with the purchase.
Metaphysical properties of Inked Goddess Creations products are not guaranteed; I supply the tools, you supply the magick. Products should not be used in place of proper professional advice or treatment. If skin irritation occurs with body products, discontinue use immediately. Never leave a burning candle unattended. Internal use of herbs is not recommended, especially without having first consulted your doctor or a certified herbalist.